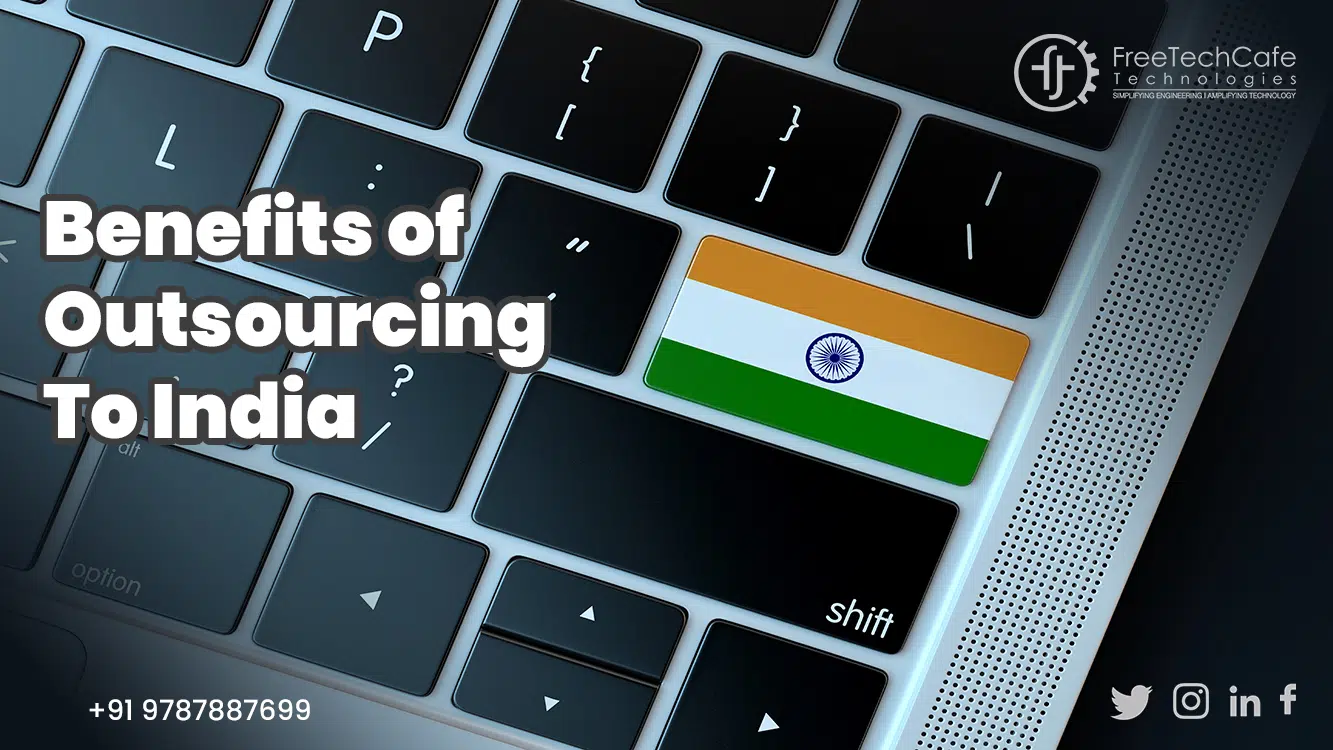 September 16, 2022

FreeTechCafe

0
Over the past two decades, firms have used the popular and successful business strategy of outsourcing to India to reduce costs, achieve scalability for expansion, and access required expertise. India remains the top outsourcing destination–especially when it comes to outsourcing software development. We've included everything you need to know about outsourcing to India in this detailed piece, from the definition of outsourcing to the benefits of outsourcing to India and the many outsourcing models you can use.
Outsourcing is the process of entrusting a company's business operations to other parties or agencies, leveraging advantages including increased quality, lower labour costs, and new product and service innovation. India is the largest offshore outsourcing location for IT services in the world, which speaks highly of its skilled labour force.
WHY OUTSOURCE SOFTWARE DEVELOPMENT SERVICES TO INDIA?
The best country to outsource software development is thought to be India. In addition to key benefits like round-the-clock assistance, cutting-edge technology, and qualified IT personnel, statistics are also favourable, support the idea of outsourcing mobile app development, software and website to India.
By utilising the knowledge of low-cost external teams, outsourcing enables businesses to lower expenses associated with hiring, infrastructure, and training development.
The quality of the finished product is what keeps businesses, not the low cost of creation. This maintains India competitive in the global outsourcing market. Recent data indicates that, with a share of outsourcing of 55%, India has surpassed China as one of the most desirable investment locations in the IT sector. India also has the most extensive number of ISO-certified companies, so if you're looking for the most excellent price and the best quality, you can contact software outsourcing companies in India.
You don't need to be concerned about poor communication with your offshore software development team when you outsource software development projects to India. Language difficulties can be a major obstacle to productive owner-developer relations in software development outsourcing. you can easily communicate with the team of remote developers in English, via different platforms like Skype, Slack, Google meet, Zoom, and more.
Indian service providers are well known for having strict security procedures. Working with an Indian software company would allow you to receive on–going assistance for your project or software product. People that work at IT Creators are very knowledgeable about the value of security and privacy in all of their initiatives.
In India there are a lot of young, talented engineers in India, one million engineering graduates were created in India in 2021. India has a significant capacity to accept outsourcing projects for software development.
LOCATION-BASED OUTSOURCING MODELS
Onshore outsourcing in software development is the use of talent located within the same country. Costs are always higher since onshore outsourcing is dependent on the business climate of the customer. As a result, onshore service providers charge more than their offshore counterparts.
Offshore outsourcing means outsourcing a business activity or process abroad. In other words, relocating that part of the business to another country. Lower operational cost, labour costs, easier access to the global workforce, ever-increasing competition and greater quality of services are some of the major reasons why businesses look for offshore outsourcing.
The process of hiring workers or contractors from nearby nations rather than a company's home nation is known as nearshore outsourcing. Sometimes the expense of doing business in your native country makes it impossible, yet neighbouring countries can be excellent long-term outsourcing destinations.
BENEFITS OF OUTSOURCING SOFTWARE DEVELOPMENT
Time to focus on core business operations

Risk sharing with an external organization

Cost reduction of software development

Use the most recent technologies in the project
Outsourcing software development
comes with many advantages. However, it is necessary to say that you need to be curious with the company you would like to have cooperation. Check their expertise
level,
ask about the approaches, cooperation flows, ability for you to be a part of project, etc. These things differ from company to company. With careful consideration you can foster a partnership that will take your business to new heights.