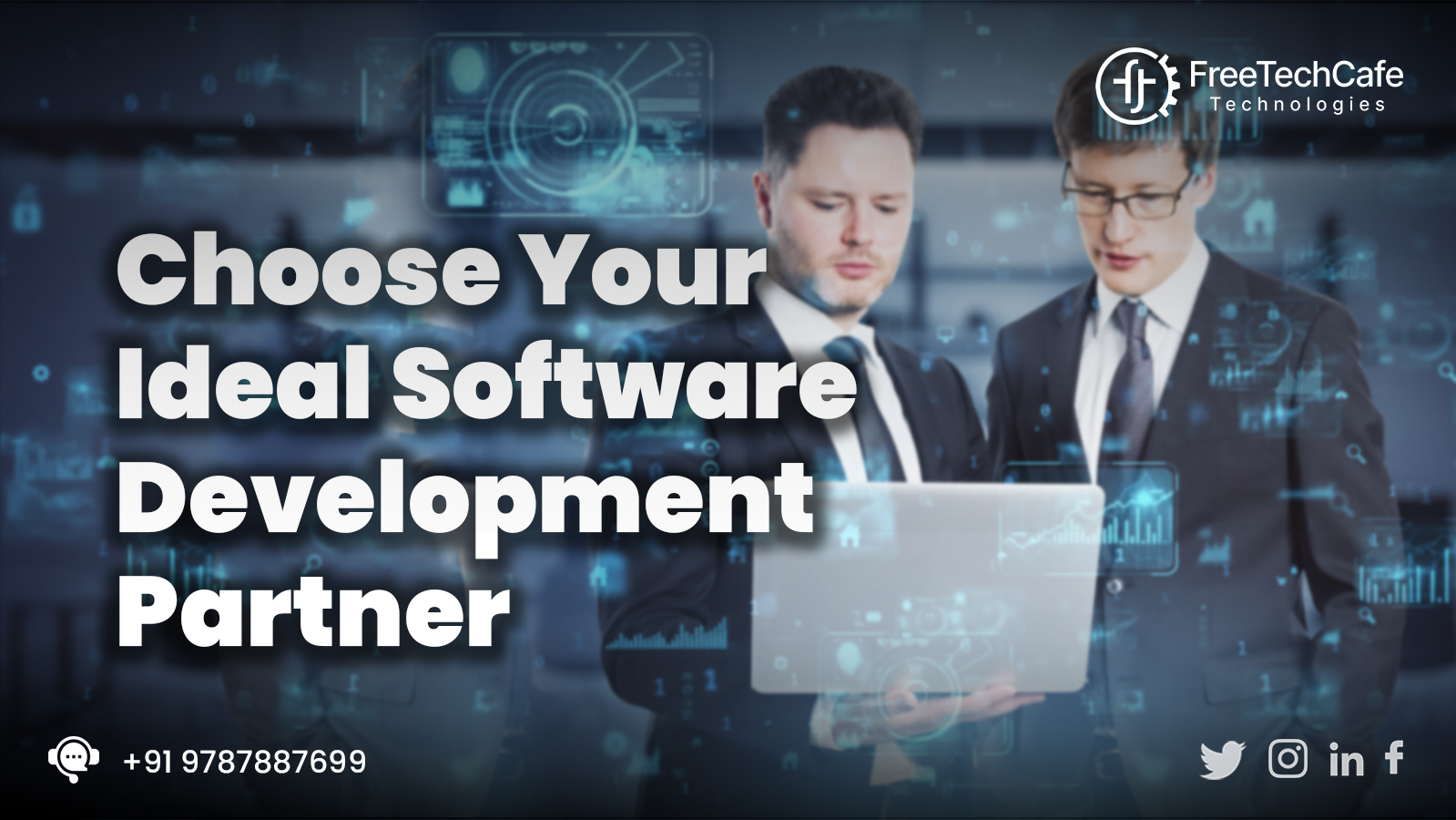 July 26, 2023

FreeTechCafe

0
Finding a reliable software development partner can be a daunting task since it is highly required to find someone with strong expertise and a partner you can genuinely rely on.
When choosing software development partners, you need someone to develop an absolute software solution that meets your customer's needs and helps you achieve your business objectives. Meanwhile, your app development partner understands your business challenge and knows how to transform your business into a success.
You have a wide range of options for picking a reliable partner for software development because there are ample outsourcing companies out there. But how to exactly choose your cup of pie and where to seek it?
And yes, it depends on your unique needs and challenges. We have listed certain approaches that will aid you in choosing an app development partner that fits your needs.
Why do you need a software development partner? The most significant question you can ask yourself.
There are some essential qualities which are highly required for a software development partner; the things that you need to focus on,
Do you in need of someone proficient partner in front-end and back-end development or perhaps capable of effectively handling both aspects?
Are you looking for experts who can handle all your project management and business analysis?
Perhaps, if your in-house IT team is already jampacked with a list of existing projects, or they are far away from advanced skills for developing the exact kind of software you want. In such situations, you either require the assistance of an expert team to support the development process or a few skilled developers to accomplish the designated tasks.
Defining your goals and objectives will direct you to choose the business partner you need. So keenly discuss with your professionals and assess all the challenges that need to be nullified with the software solution.
How to choose a software development partner in just 7 steps
After uncovering why, you need an app development partner, you can kickstart your search process. I would like to emphasize that locating a reliable vendor demands equal effort to finding a dependable partner.
Here are 7 steps to do it correctly:
Step 1: Do complete research 
Identifying the ideal partner becomes less cumbersome once you have a clear understanding of your preferences. As everyone can google your software development partner list, choosing the right one from a pool of options won't be helpful.

How come you choose the right from those pools?
Check out the reviews that uniquely shine with services, expertise, and experience.
Step 2: Check Reviews and Testimonials 
Words of your partner's clients give you a clear picture of how their work resembles their skills and relies on authenticity and transparency. The work pattern of the professionals can express through their best outcomes.
Step 3: Valuate the Expertise 
Almost crossed half of the track. The next step to gain a good software development partnership is to assess their expertise.
Check the specialized domains of the partner.
For instance, Assume yourself as a fintech startup, and check if your partner has hands-on experience in fintech or at least touched the relevant projects in their history. It's not advisable to work with a partner who doesn't have a clue to achieve your goals.
The partnership must be a long-term process, especially to cater to your customer's needs and transparently turn down your business challenges.
Step 4: Case Studies 
A reliable software development firm never fails to showcase its potential. They love to express how they transformed their client's business together. Case studies will clearly explain the clients' challenges and how they successfully resolve them with optimal solutions, along with technologies and strategies they implemented in the stipulated timeframe.
Step 5: Company's Culture
The company's culture reflects the company's personality, which picturizes you with an insight into the company's values and behaviours. It will exhibit the business partner's ethics, goals and expectations.
Step 6: Smooth Communication 
Proper communication matters in all phases of the development process. The outcome won't be precise if there's a communication gap between you and your chosen partner. Maintaining clear transparency in the development process is mandatory to avoid unnecessary confusions and conflicts that affect the project. You need to ensure there are no language barriers if you are working with a global partner.
Step 7: Consult with the technical team in an introductory call 
It's not just enough to chat with a sales rep of the development partner. As a sales rep, the sales team knows the nook corner of the firm. Still, if you need more clarification on what you are seeking, it's better to connect with technical consultants to speak with. The consultants will assist you with various types of functionalities, advanced tech, recent market trends and services that seek for your business matches your needs.
Additionally, here are some tips apart from these seven steps to choose your application development partner, which are commonly roaming in every business owner's mind.
How to cross-check that the partner matches my business needs?
What kind of pricing model do they quote for my needs?
Bits of suggestions for you,
Make a list of questions
As you invest your ample money, spare some time to choose the right development partner for your needs. Here are a few suggestions to make your list
Analyse the working style of your partner from the initial phase to the project release. Make sure their support will continue after the success of the project launch.
Estimate the time when you are going to start your project with your partner.
Check the mode of communication between you and your partner's team.
Your needs must be clean and clear for them to estimate the project timeframe, pricing and release.
Keen on legal entities such as the way of payments and periods of payments.
Prioritize the value over money
Price plays a critical role in choosing the right development partner. It's very easy to offer adequate service at low prices. But the quality of the product matters in the end.
It's obvious to save money when starting the project with a low quote, but the result may not turn out well. It's better to be non-compromised with reasonable price with good quality rather than completely rewrite the process once you know it's not well.
In general, opting for the cheapest offers may not be the wisest decision as the quality often aligns with the price you pay.
Why is FreeTechCafe a reliable IT partner for you?
FreeTechCafe has marked its footprints across 6+ countries, transformed 20+ clients with 70+ successful projects, and serves almost all industries. We are upgrading ourselves always to stay ahead of the competitive edge. We believe that FreeTechCafe will be your reliable partner for all your business needs, and our experts contribute much to transform your business aligned with your goals.
Beyond being mere records, our goal is to establish ourselves as a dependable software development outsourcing company for our clients. We foster a collaborative approach, working closely together as a unified team. We view it as a partnership rather than just task delegation and expect mutual engagement from our clients in return.
Summary
It's tough to choose the right development partner for you. If you strategize to make an informed decision with a list of prerequisites, then choosing your partner at your fingertips is obvious.
Draft a checklist
Review testimonials
Explore Case studies
Talk with experts
Assess the pricing model and timeframe
Make it simple as that to turn down your burdens and handing over to your reliable partner.