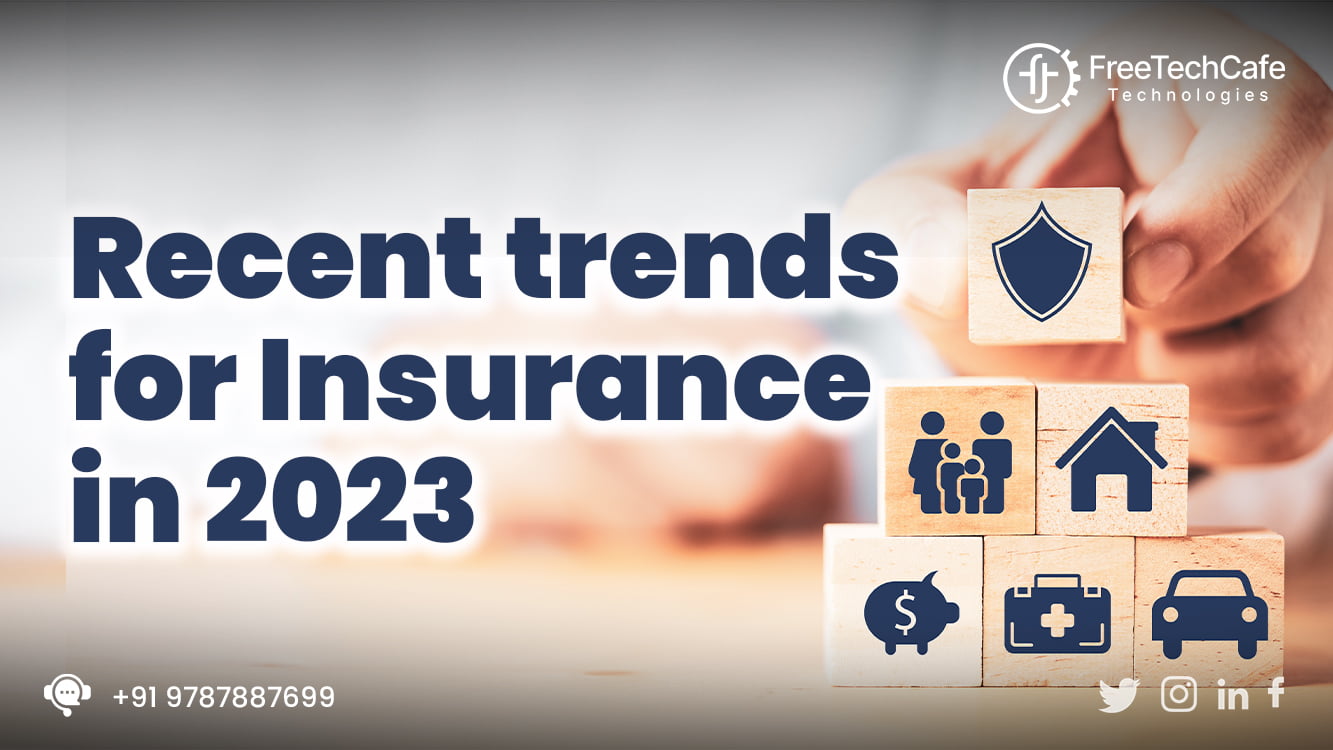 April 7, 2023

FreeTechCafe

0
Technology is becoming a boon for many industries, simplifying huge business complexities in a fraction of a second. Insurance firms also utilize many recent trends and technologies according to the difficulties. If you are looking for a tech solution for your insurance firm, you are on the right page!
You might hear the buzz of InsurTech, which is at its peak in this decade and is evolving Insurance business operations to the next era. In the last few years, the insurance industry struggled with several challenges, including claim management, fraud detection, customer retention, etc. Advanced technologies will simplify many challenges in insurance operations and boost productivity, revenue and efficiency. The recent techs and trends are beneficial for insurers and effective for customers.
According to Markets and Markets stats, the global market size of InsurTech is about to reach $16.8 billion by 2025.
The term InsurTech signifies insurance is highly revolutionizing with modern techs. This article will assist with the recent trends and technologies transforming the insurance industry.
What are Insurance Trends?
Trends and Techs will always emerge into new transitions based on our needs and challenges. Likewise, many trends and techs are drastically transforming the Insurance Industry, and there is a buzz roaming around called InsurTech which includes modern technologies in the Insurance sector. We will break down these new technologies and how they simplify the complexities and challenges.
Artificial Intelligence & Machine Learning
AI & ML is transforming all industries with advanced algorithms like NLP, Recommendation, Reinforcement, and Classification and Regression. The insurance sector is not an exemptional one.
Insurers also prefer these algorithms to simplify lots of in-house operations such as automated underwriting, claim management, risk management etc.,
Recent research predicted that the global AI in insurance market size is about to expand by $45.74 billion within 2031.
AI mechanisms help the underwriters to assess the applicant's profile from multiple resources, which gives more visibility of relevant risk factors.
For instance, the Life insurance underwriting process collects personal details, including occupation, health disorders, height/weight, regular habits, and family medical history. Based on certain parameters, the insurers decide about the insurance coverage.
The reputed Insurance firm Prudential ensures clients use PruFast Track, simplifying the underwriting process for individual life insurance applicants.
PruFast Track uses Prudential's Risk Assessment Mortality Model (RAMM), a machine learning-based model that can process a large amount of data, conduct statistical analysis, and derive some degree of insight which is helpful to assess whether the applicant qualifies for insurance coverage or not. Similarly, many solutions are transforming with advanced AI & ML techniques.
Smart Sensors and Wearables using IoT
Smart sensors ensure that insurers monitor the insured policies and make them more efficient. It will support optimizing the customer experience and detecting fraudulent insurance claims, which decreases manual process and insurance loss rates. On the other hand, IoT increases coverage amount by simplifying reinsurance underwriting.
For instance, wearable technology such as Fitbit or any other smartwatches supports insurers in reducing insurance loss by collecting data from customer's health and fitness behaviour, habits, patterns and activities. Wearables monitor the customer's regular workouts and healthy and unhealthy habits and infer the data insights.
Not only for health insurance but also for cars and homes, there are various smart sensors to accumulate data and offer decisions for insurers.
Car Insurance providers access information such as automobile location, kilometres driven per year, and so on. Based on this information, insurers provide improved pricing models, offers and discounts.
Furthermore, Insurers may use real-time IoT data that notifies and assist customers to speed ups claim processing in some terrible and tragic damages or losses.
Blockchain technology
Blockchain in Insurance is to secure the data in decentralized database systems. The motto is to effectively access the data by insurers, policyholders, and third-party service providers and prevent data loss. It reduces the time and costs of manual claim processing.
Furthermore, it aids the insurers in identifying and mitigating any risks and fraudulent activities associated with claiming the insurance and optimizing their pricing more accurately.
A recent report by MarketsandMarkets stated that the global market for blockchain in insurance is about to reach $1,292.8 million by 2025.
For instance, Insurers prefer blockchain-based ledgers to track data around high-value items such as property and ornaments. It avoids duplicate and fake insurance claims and fake replacements.
It ensures high security and authenticity for customers, which gains more trust. Insurers adopt this kind of feature to build customer trust.
Benefits of recent technologies in Insurance
Risk Assessment
Insurers can predict future losses of insured products or services by analyzing their historical data, such as behaviours, patterns, and usage of products. Based on the risk assessment, insurers determine the appropriate premium for their customers according to the risk involved.
Customer Segmentation
Insurers effectively segment the customers based on their behaviours. It's easy to segment groups of customers with similar characteristics and tailor products and services to meet their needs.
Fraud Detection
As we have already seen, Predictive analytics, Blockchain let insurers detect fraud in insurance claims. Insurers keenly identify patterns and behaviours from multiple resources to verify that the claim is for a legitimate product loss or damage. This maintains the integrity of insurance programs.
Online Application
The applicant effectively applies through an online medium with the required authentication for verification, which saves time and cost for both the insurer and the customer. And, to ensure the safety of customer's information, insurers focus on encryption, two-factor authentication and fraud detection in their insurance applications.
Data Collection
Insurers must collect data from multiple resources, such as credit reports, medical records and driving records, to verify customer's profiles. The firms prefer automation for data collection to simplify the time-consuming manual process.
Quick Decisions
Automated underwriting easily evaluates the applications faster and provides quick and accurate decisions within minutes.
Live Customer Assistance
To provide seamless customer service instantly, insurers prefer Chatbots, Emails and Voice chats. Based on these mediums, customer queries include policy inquiries, claim processing, billing and payment, policy changes, etc can be attended and resolved seamlessly.
Automated Underwriting
In general, Manual underwriting consumes time for employees to analyze and verify the data of customers to streamline the process. Automation replaces the difficulty by automating the data collection, validation and verification, which speeds up the underwriting process by simplifying time and cost. Here the data collection is done through online applications, which can avoid direct visits and waiting time for applicants. It's helpful for both the insurer and the customer.
Omnichannel Customer Platforms
As the firms change their data digitally, they need more digital platforms such as online applications, email or virtual assistants.
These platforms deliver significant benefits, including better customer service through chatbots, increased customer engagement through regular notifications and emails, and better risk management.
Quick Summary
So far, we have seen the boon of technologies and its benchmark in the Insurance sector. This article disclosed recent trends, technologies, and benefits for insurers and customers. Every insurer sticks to providing the best customer premiums and claims with legitimate options and also wants to be digitally strong. So advanced techs lend huge support to Insurance firms.
Digitalize your insurance operations with us!
If you are looking for technological solutions for your insurance firm, feel free to reach our developing experts for consultations. Our experts will assist you in simplifying your business hurdles and elevating your operations with the successive product.