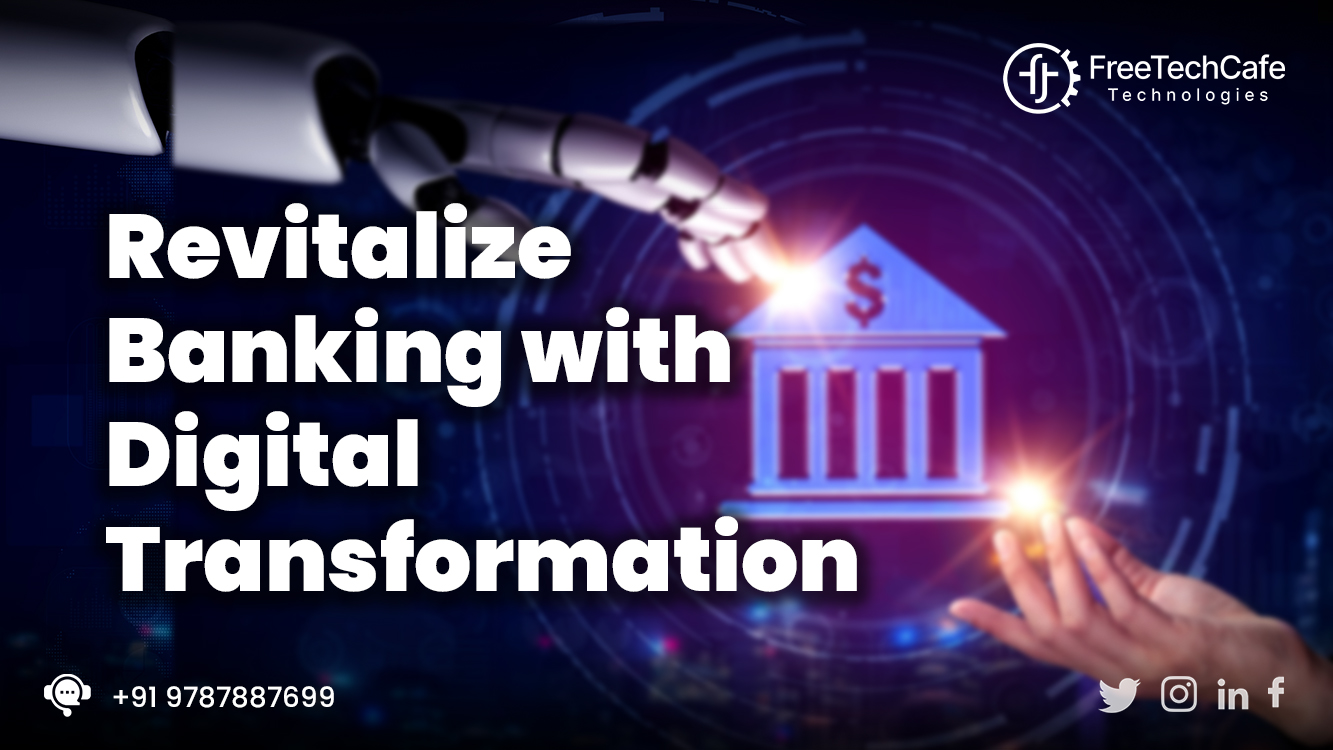 July 19, 2023

FreeTechCafe

0
In this modern age, digitalization has transfused every aspect of our lives, transforming how we live, work, and play. With just a simple tap, a world of possibilities unfolds before us. From satisfying our hunger cravings with a few clicks to expanding our knowledge through online courses, smart technologies have revolutionized how we navigate daily life's complexities.
Thanks to Digital Transformation, which alleviated many business hurdles in numerous sectors. Banking and FinTech are no exception.
For decades, banking firms encountered challenges in performing basic tasks like cash deposits, withdrawals, and money transfers, until the advent of modern technological solutions.
Now we are evolving one step ahead with lots of sophistication in Digital Banking, where we can instantly do online transactions with highly secured payment gateways.
According to recent research by Markets and Markets, the global digital banking platform market is set to skyrocket to a whopping $13.9 billion by 2026. With a remarkable 11.3% CAGR, digital transformation is paving the way for a brighter future. It signifies some banking giants are already adopting modern technologies for their banking operations. Do you want to be one among them? Let's glance at top technologies turning down the banking hurdles.
What are the game-changing factors propelling the Banking sector with Digital Transformation?
In today's technological era, the Banking and Finance sector efficiently utilizes modern tech to streamline complex banking operations, reducing errors and saving time and costs. With the aid of mobile applications, Virtual Assistants, and Online Banking, significant challenges in the banking sector are simplified, enabling bankers and customers to perform time-consuming operations with just a single tap.
Now breaking down the significant factors that drive digital transformation in Banking firms.
Customer Experience
Banking firms are keenly focused on delivering the best services for customers. That's the key reason banking firms are moving to digital platforms. Modern technologies bridge the gap between customers and banks through instant solutions.
Advanced-Data Analytics and Forecasting techniques gather insights into customer behaviours.
Online banking provides instant solutions such as managing accounts, bill payments, fund transfers and loan applications effortlessly through mobile or web applications.
Many industries owe the cloud for their high-security standards and flexible data storage solutions. As banking operations involve many sensitive and confidential information, securing information from cyber-attacks with strong encryption algorithms is mandatory.
Operating Model
The banking operating model acts as a blueprint to determine the functionalities of banking operations in a particular workflow without any deviations. Nowadays, customers are expecting speed and convenient quality service at their palmtops.

To meet customer needs, banks started optimizing their operating model with advanced technologies such as automating invoices, reminders for due payments, etc.
To simplify complex internal banking operations, we can streamline process workflows, organize roles and responsibilities, establish clear reporting lines, and improve decision-making processes.
For Instance, Process Automation will lend a hand to handling redundant and rule-based tasks, such as data entry, document processing and transaction verification. This simply reduces manual errors, speeds up processes and frees up manpower for tedious processes.
Data Analytics
Banking operations involve a vast amount of data. Advanced-Data Analytics unlocks the hidden insights in those data based on customer behaviours, improves risk management, fraud detection, etc.
For instance, by analyzing certain KPIs such as transaction processing times, and customer wait times, banks can figure out the improvement areas and modify the processing to increase efficiency.
Recent Technologies Enhance Modern Banking
Artificial Intelligence and Machine Learning
Artificial Intelligence and Machine Learning Algorithms have already marked their footprints in vast industries. Many of the algorithms and mechanisms revitalize the banking sector, ultimately improving efficiency, reducing costs and manual errors, and improving the experience. Let's understand with some examples,
Fraud Detection
Every bank prioritizes its customer safety and security. To ensure customer safety, specified algorithms such as anomaly detection, clustering and decision tree lend a hand. For Instance, to figure out unusual patterns or events such as credit card fraud, money laundering and stock market manipulations. Predictive analytics and forecasting mechanisms assist bankers and prevent fraudulent activities.
Quick Customer Service
AI-based Chatbots deliver high-quality customer service with personalization and resolve customer queries on account balances, transaction history, loan applications and other account-related information.
Predicting Customer Behaviours
Many AI algorithms predict customer behaviour based on customer histories and provide personalized recommendations such as investment opportunities and credit offers, assess credit risks, and detect and prevent fraudulent activities.
Internet of Things
IoT delivers seamless connectivity among multiple devices, enables customers to make contactless payments, enhances security and reduces cyber threats and vulnerabilities, automates manual tasks and streamlines financial operations, and so on.
Predicting and Forecasting Maintenance
Smart sensors tend to monitor the equipment's condition and detect wear and tear signs, enabling banks to schedule maintenance drastically, reduce downtime and repair costs, and save time.
For Instance, Wells Fargo wisely implemented smart sensors to track and monitor their ATMs to detect signs of wear and tear, which saves repair costs and reduces downtime. Additionally, these sensors lend a hand in monitoring and managing security systems.
Customer Engagement
Smart wearables and Mobile phones deliver personalized banking services to customers, which increases customer satisfaction and loyalty and reduces customer acquisition costs.
For Instance, Bank of America is always keen to focus on offering a seamless customer experience, and so they developed a specific application for Apple Watch users which enables the users to view account balances and transaction history and receive alerts through the smartwatch. This portable feature makes users access their personal information seamlessly.
Cloud Computing
Traditional storage systems are a huge barrier to managing and handling an unimaginable amount of banking data. As in every other industry, Banking firms are implementing Cloud Computing to speed up their process efficiency, easy data access, secure the data from unauthorized access and so on.
Banking firms possess customers' most sensitive data, such as account details, transaction history, stock details and so on.
Secure Data Sharing
Banks have to collaborate with many financial institutions and other service providers. In this case, mutually, the data has to be shared securely. So Banks prefer cloud-based platforms for fast data access with high security, reducing the time-consuming process and cutting unnecessary costs.
Disaster Recovery
As the data is highly sensitive, this data must always need a backup. Storing an immense amount of data on the cloud eases the recovery process in case of any system failure or outage.
Compliance & Regulations
Banking firms are adopting cloud-based compliance tools to automate compliance processes and reduce the risk of errors.
For instance, banking firms started implementing cloud-based Anti-Money Laundering solutions to prevent money laundering. This solution prevents money laundering, unauthorized and illegal funding and other financial crimes. Additionally, cloud-based solutions ensure banks automate compliance processes such as transaction monitoring, customer due diligence and suspicious activity reporting.
Unique Solutions of FreeTechCafe
Apart from these highlighted features, a few more digital transformation solutions leverage banking operations and enhance customer experiences.
If you are seeking technical assistance for your banking workflows or to simplify your customer hurdles through smart applications, our expertise will support you in all possible ways with a wide range of technology stacks. From designing an attractive user interface to integrating modern data solutions, our experts serve the exact needs of our clients and beyond.