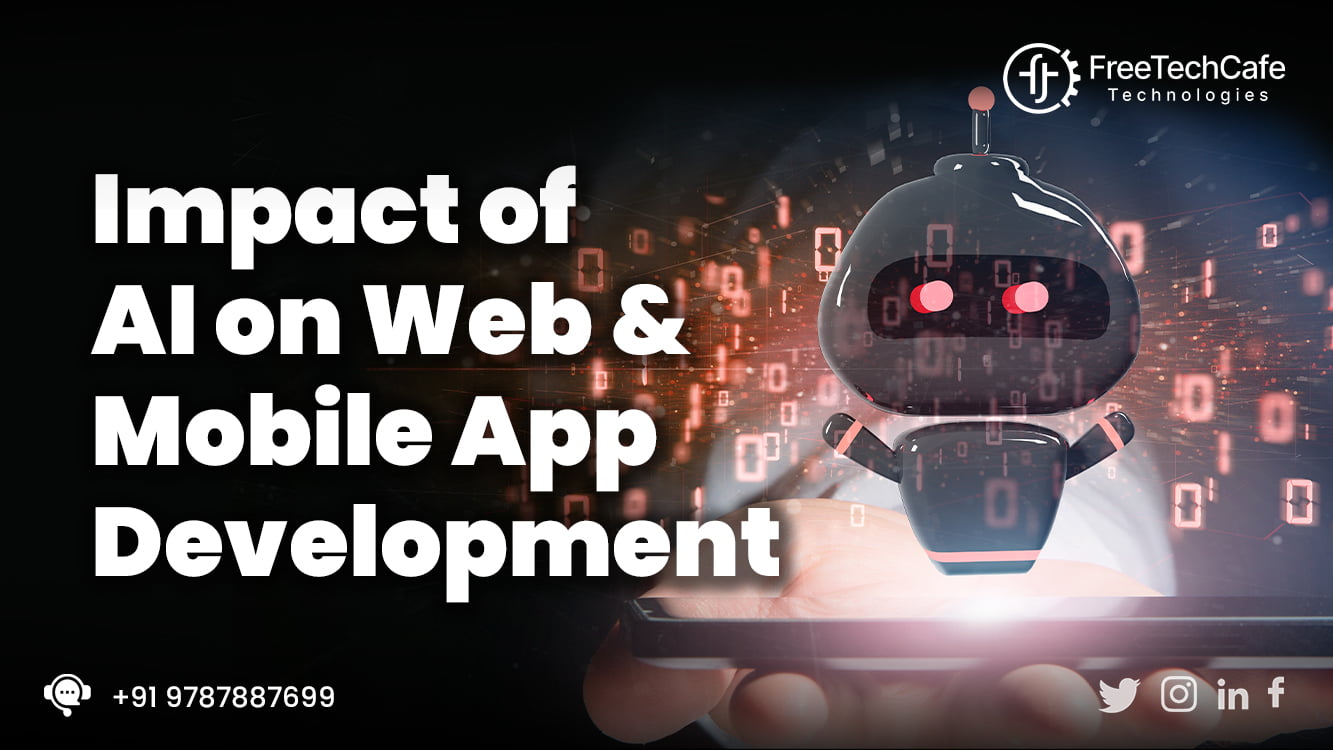 March 20, 2023

FreeTechCafe

0
Can you imagine a world without Artificial Intelligence? It's a big no!!
Artificial Intelligence cannot replace Human Intelligence completely, but it can assist us in various complex operations to save time and cost. Many Industries prefer AI-based apps to leverage their in-house operations and maximize working efficiency.
Industries such as Manufacturing, Transport & Logistics, and Retail thank AI-based Mobile Apps and Web Apps for saving their employees 9 to 6 working hours to focus on major work. AI-based apps mostly replace the workforce, which minimizes errors and speeds up performance.
For Education, Real Estate and Media Productions, the service of AI will differ according to the customer's needs and interests, using many recommendation and suggestion algorithms.
AI is becoming a boon for many industries, simplifying internal operations and workflow and enhancing user efficiency regarding direct usage in the market.
As per the stats from Statista, the global AI market will reach $433 billion by 2022, reaching more than half a trillion by the end of 2023.
The stats signify that the footprints of AI are everywhere worldwide, which makes many organizations adopt AI & ML techniques to simplify their complex business operations in a fraction of a second.
The motto of this article signifies the need for AI in Software Development.AI rules almost half of the technologies, and Web and App Development is at its peak. Let's glance at how AI plays a vital role in Software Development and how it will be helpful for business applications.
Benefits of Developing Web and Mobile App using AI Techniques
Many AI and ML techniques levitate Mobile and Web Apps to the next level. Each technique has unique functionality to resolve day-to-day challenges in business operations. Let's check the unique features of AI for Mobile and Web Development.
Personalized User Experience
AI and ML hold a large set of recommendation algorithms to tailor the user content based on their preferences, histories and behaviours, ultimately improving user engagements and experiences.
Optimized Search Results
Developers develop search features with AI systems; so that even naive users can search and receive results effectively. Every user uses the same search query, but the results will vary according to the user's previous search history and interactions with the system.
For Instance, RankBrain is one of Google's machine-learning methods to analyze user queries and interactions with web pages to deliver user-tailored results.
Effective Marketing Strategy
All e-commerce mediums effectively incorporate AI-based analytics to understand customer behaviours on the medium, which helps elevate their branding and marketing strategies.
For Instance, Time Series Analysis provides customer behavioural insights based on order histories and preferences at a particular time. The analysis offers suggestions on timings to launch marketing emails, campaigns and seasonal advertisements.
AI-based Chatbot
Chatbot sounds familiar nowadays. Without AI and ML, it's impossible to build a perfect chatbot. Most business owners prefer to build Chatbots for their business applications to offer the best customer service.
For Instance, in e-commerce, the Chatbot will assist the users in product search, the status of product ordered, reviews and feedback of products and so on.
Speed up coding
We came across days of tedious coding.AI assists developers in Software Development, which automates many complex processes and enables the code easily with minimal time.
Automation in coding drastically reduces turnaround times and allows developers to build more intuitive applications in a stipulated time.
For Instance, Codata AI-based code completion tool suggests code snippets and supports the developer in writing code faster. It simplifies the time-consuming process of writing the code manually.
Industries majorly levitated with AI Techniques
Education
The education industry slightly uplifts the graph towards e-Learning.
E-Learning improvises learning with practical learning patterns, remote learning, easy access to online study materials, recorded video sessions, etc. Glance at a few AI techniques that stimulate the learning process,
Adaptive Learning
AI analyzes the learner's learning patterns, preferences, and behaviours to provide personalized content.
Assessment and Feedback
E-learning modules suggest periodic assessments to improvise learning, identify the weak areas of learners, and tailor the feedback to improvise the skillsets.
Finance
Some AI algorithms automate complex financial operations and forecast and predict market trends. Here we break down with a few examples.
Cash Flow Management
AI-powered cash flow forecasting tools help to analyze previous financial data and market trends to predict future cash flows. These AI-based tools can help companies identify cash shortfalls and plan financial situations accordingly.
Automated Reconciliations
The manual reconciling process is time-consuming and also leads to errors. To overcome these difficulties, many organizations automate their reconciliation operations, including data extraction, pattern recognition, fraud detection, predictive analytics, etc.
Healthcare
Like many industries, healthcare is also evolving technically with the aid of AI. Certain AI algorithms ensure clinical decision-making, patient-centric approach, automation of administrative tasks and so on.
Administrative tasks
AI supports healthcare administrative tasks such as automating appointment scheduling, managing and monitoring patient records, and generating invoices and prescriptions.
Virtual Assistants
AI-based Virtual Assistants like chatbots assist patients in refilling prescriptions and delivering immediate responses to health-related queries.
Quick Summary
Do you know how much data is generated per second globally?
Approximately it's 1.7 megabytes of data per second. It takes a lot of work to manage this much data manually. Within a fraction of a second, AI and ML techniques accumulate the data and process it effectively with specified algorithms. This article signifies the essence of AI in Software development, its unique techniques, and its benefits for business applications.
FreeTechCafe for your Technical Needs
The experts of FreeTechCafe serve all sorts of IT services, such as Business Process Automation, Cloud Migrations, Application Revamping, Customized Software Engineering and Digital Transformation services which scale up the business 100%.
Feel free to consult with tech experts to resolve your business hurdles.