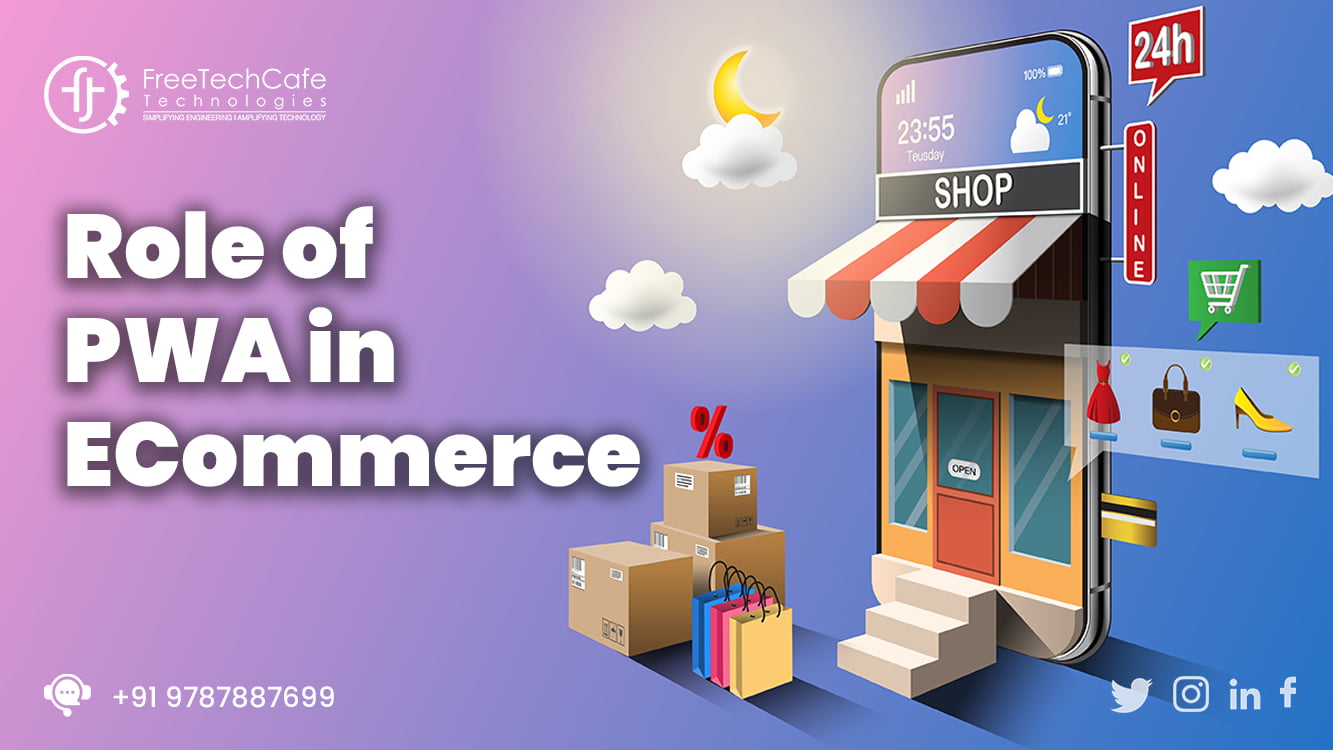 October 31, 2022

FreeTechCafe

0
Data is available on Palmtops for every user of smartphones. Most business goals are oriented to mobile-based applications that reach the exact target audience with reasonable branding efforts. As an entrepreneur, if you want to develop an eCommerce business, you definitely have to know the fundamentals of PWA (Progressive Web App). PWA skyrockets the eCommerce business into the next version with lots of benefits for both the customers and the developers of PWA Service providers.   
 
We can read the questionnaire in your mind; what is a Progressive Web App? 
A technology that enhances the businesses to construct web applications which give the exact feel of native application while using in a browser with key features of; 
Effective access through the mobile browser.

 

Access offline

 

Push notifications

 
Check the article to learn more essentials and features of PWA in recent decades, which will give you a clear picture of the need for PWA.  
Why PWA than a Native app?  
As PWA is an emerging technology, PWA replaces the native app, which cannot run on any website tailored to search engines. PWA is comparatively more responsive than Native apps. 
 
No need for installation: 
PWA apps do not sound like native apps. No need to wait until the entire application has to download & install the application packages and functions. Here you can easily access the PWA with a few taps and have the easy option to bookmark for future uses. It has customized features to receive notifications and integrate them into device settings. 
Primarily your device storage will be effectively stored by PWA instead of installing an entire app.  
Performance: 
As the native app is tied to the device operating system, it drains the battery and storage while accessing. PWA doesn't require much time to load compared to the native app. PWA apps run on the browser, which resolves the above challenges. 
 
Functionalities of PWA in eCommerce: 
The palmtop's so-called smartphones change the entire world with their advanced technologies. eCommerce business requires engaging the users through various specified functionalities through PWA. For excellent outcomes in your eCommerce, here are some functionalities of PWA for eCommerce; 
PWA app pushes the notification to engage users and extend the branding for your business without disturbing the storage. 
It is programmed to attract users if they enter the specified geographical location. 
Connectivity Independence:  
PWAs can access both online and offline. When it comes to online, it even works on poor networks. 
Browser compatibility and Responsiveness: 
PWAs are run on any browser regardless of screen size and devices. 
No need to update manually. As it is served through HTTPS protocol, it is secure to access. 
 
Benefits of PWA in eCommerce: 
As per the functionalities, PWA skyrockets eCommerce with immense features. Compared with the Native app, PWA brings more users for eCommerce for instant product or service purchases. Based on these highlights, many eCommerce is progressively running through PWAs. 

PWA doesn't involve that much cost as a native app. The key reason here is that there is no need to develop according to language and versions for each platform. 

 

PWAs are faster to construct with a limited number of codes, reducing cost

s

.

 
PWA redirects the path of installing the application from various app stores.

Most browsers efficiently support the PWA, which enhances the eCommerce business by engaging the users through browsers such as Chrome, Firefox, Safari and Edge, effectively reducing the time to reach the audience.

 

PWAs are run based on URLs, and sales branding is also done effectively for eCommerce businesses.

 
Unlike native apps, the pages are indexed in all effective browsers, which increases customer engagement, boosting the rank in search outcomes.

 

However, ASO supports native apps, and for PWAs, SEO will lend a hand to improve the search results. 

 
PWAs are secured to access as it is tied up with HTTPS. The protocol ensures a secure connection between the client and the server. This security makes the users trust your eCommerce business which leads to securing the personal information of a user and payment information such as banking card details. 

 

According to the browser URL, many security measures enrich user safety for login credentials, and Multifactor authentication confirms the user's identity. 

 

These are the significant factors that eCommerce business needs PWA. The PWAs almost satisfy all the users' requirements, and beyond, the need for the native app is mandatory when highly required.
Prerequisite for Building an Ecommerce PWA: 
 
Build an app shell: 
A Progressive Web App that loads instantaneously on users' screens, as native programmes do, may be created using an application shell architecture. The PWA performs quickly and with great performance with the aid of an app shell. This component is necessary for a programme with dynamic content and a predictable navigational structure. 


Every Progressive Web Application (PWA) should contain a Service Worker since it allows the PWA to run even when there is no internet connection. This network script continually searches the system to determine whether to download files from the cache or the server. 
The splash screen and other vital information about the PWA are all contained in the manifest file. The user can see the splash screen when the programme is loaded. 
Additionally, it is used to provide the PWA name, description, application symbol, etc. 

It's recommended to enable the push notification feature in the PWA to make it more like the native application. It greatly aided by attracting new users and keeping current ones engaged. Push notification functionality is primarily supported by the service worker and Push API. 
What's your preference, PWA or Native App, for your business? 
PWA and Native apps have the best standards and certain demerits. Choosing the track between both gives a clear vision for your business needs.  
PWA: 
If you are looking for an effective but easy app for your user, you can choose PWA. It has the features we highlighted above: no installations required, SEO friendly, and high data security.  
Native app: 
If your business motto prioritizes branding among the vast market, ensure some advanced features for smartphones with high reliability and geofencing options.   
 
Want to begin using PWA Ecommerce? 
 
"If you do build a great experience, customers tell each other about that. Word of mouth is very powerful."–Jeff Bezos, Founder of Amazon. 
 
Customers' interests will be shared by peers, as Bezos mentioned. It will happen by successive PWA, which build with the above-specified features. 
PWA will be the go-to choice for anyone trying to boost mobile conversions, so get a good start with it. Every player must reap the benefits of this chance since eCommerce powerhouses like Flipkart and Alibaba employ PWA's mobile conversions to dominate the stats. As we have seen, the solutions for eCommerce lie between PWA and Native apps. According to your business requirements, you can choose wisely.  
 
What excellent news is there for business owners like you, then? 
Let us know your eCommerce PWA requirements. Native-like application is assured with high accuracy, reliability, and data security.  
Reach our developer expertise to consult more regarding PWA for your eCommerce businesses. The team will assist you according to your business needs.