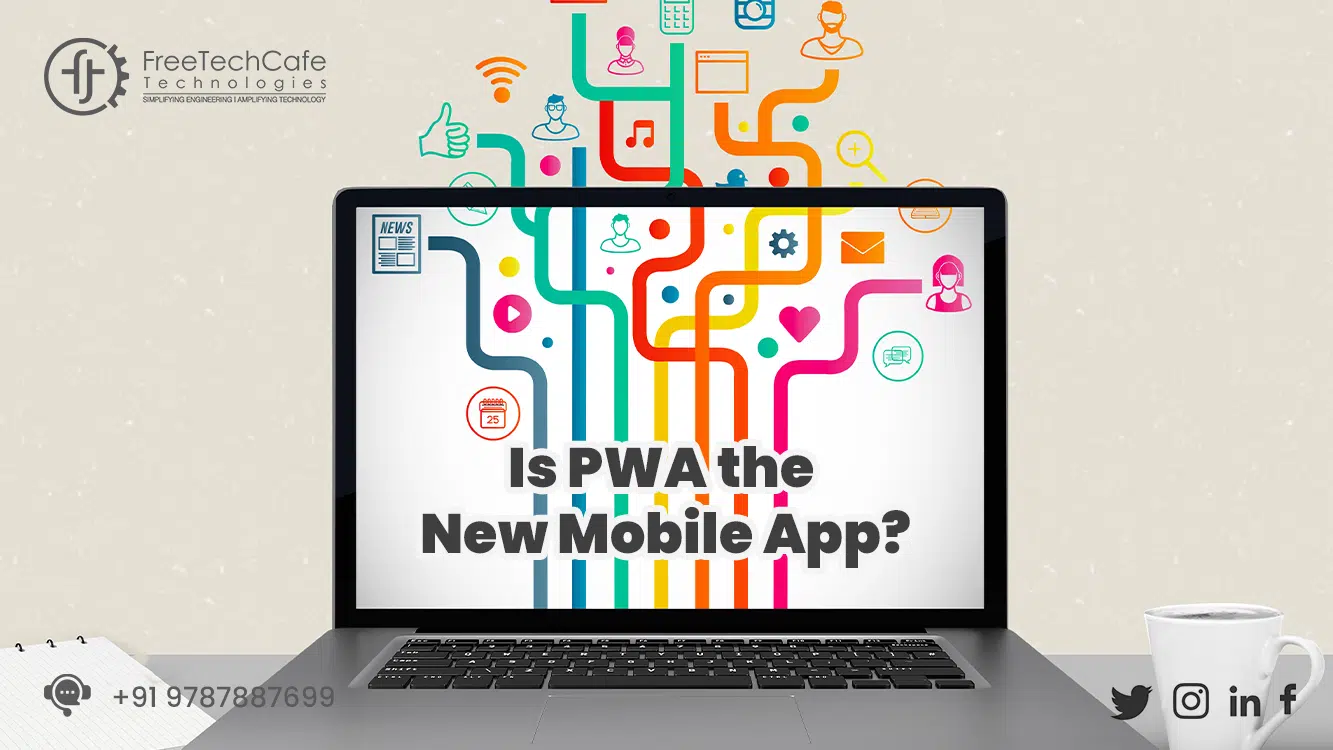 May 27, 2022

FreeTechCafe

0
The onset of progressive web applications (PWA) is bridging the gap between native apps and web apps. As a result, mobile application design service providers around the world are gradually shifting their focus from mobile apps to PWAs. Google and Microsoft are on board with PWA and despite Apple's initial reluctance to incorporate PWAs into its AppStore, ever since iOS 11.3, iOS application development service providers now have the chance to design PWA that can be installed to the home screen from browsers. What has led to these changes? How did PWA go from being just 'a lighter version' of the native mobile app to becoming a potential alternative for the mobile app itself?  
Opting for PWA is highly beneficial in terms of convenience for both customers and mobile application development service providers. The time-consuming nature of pondering over installing an app, downloading it and finally setting it up results in a dedicated process many customers may not prefer. As opposed to this, a PWA needn't be installed and can be added to the home screen from the web browser with a couple of taps. It also updates itself and takes up much lesser space than an app. Moreover, not all customers are interested in downloading an app for all purposes. For example, a customer wouldn't prefer to download an app just to order food from a particular restaurant. PWAs become more convenient in this aspect as they wouldn't take up much storage and would still engage the customer with the help of push notifications.  
In the case of mobile apps, mobile application design service givers would need to create suitable codes separately for each platform. Each of these platforms demands the clearance of a lot of tests for store approval and the app can only be published after umpteen formalities. PWAs on the other hand can be built using a single codebase for all platforms regardless of the differences in operating systems, browsers, device size or network speed because a PWA doesn't require app store permissions as their development only revolves around a web browser, URL, service worker and web app manifest. Browsers of the time also support the development and incorporation of PWAs with tools like Google lighthouse that help to configure the PWA.  
Another attractive reason to shift to PWA is the low developmental costs. The expenses to set up, develop, maintain, debug and update a native app are extremely high. Various codebases need to be developed to satisfy the requirement of different platforms and a whole team may be required to manage and regularly update each of these versions of the app separately. Availing mobile application development services is hence costly and the failure of an app is not a setback many businesses can bounce back from.  
The developmental process of PWA is devoid of all the pain and formalities of creating a mobile app as only a single codebase is required for web browsers. PWAs also fit on all devices and desktops and do not need to cater to app store permissions. Hence, they can be released much easier than a mobile app. Also, PWA almost functions just like an MVP. This is because PWAs also have the chance of reaching more audiences through web browsers as they needn't wait to be installed from an app store. This saves the business and developer involved from the risk of spending huge amounts of time and money on a failing app. This increased online visibility makes it easier to correct and improve PWAs. PWAs, therefore, become a suitable way to build a product fast and ship it to users with minimized budget as compared to native apps. With the smart and creative exploitation and timely interventions of mobile application design service providers, PWAs can surely outperform an app.  
PWAs also shine when it comes to customer retention. Customers value quick responses and are not keen on downloading and keeping an app. Unless it's a social media app, it may not be used frequently and the storage space might bother customers. For one-time purposes, customers tend to turn to web apps because a permanent mobile app may not be required. As PWAs are better than a web app and also share the basic features of a mobile app like working offline and sending push notifications, they become the best option for the majority of these customers. Being indexed in search engines, PWAs are also easily discoverable. This can further be proved through an example. The chances for a user who doesn't possess a BMW to download the BMW app are fairly slim. BMW's reports show that after the introduction of their PWA the clicks to their sales site increased by 4 times alongside the 50% increase in their mobile users. Customer engagement increased by 49% compared to their old site too. At this point, mobile application development service providers would only need to focus on making sure that the PWAs load within a time frame of 3 seconds and also function in a user-friendly manner. 
Customers usually respond negatively to change but the transition from mobile apps to PWA would be smoother as the PWA manages to retain the essential features and the user-friendly interface of a mobile app by already functioning as a stand-alone app window. PWAs have been an apt transition for social networking apps like Twitter and Instagram and mobility service providers like Uber. E-commerce giants like Alibaba have enjoyed incredible results including a four times increase in user interaction rate after becoming a PWA. Publishing industries like Medium have benefited from its PWA with their page loading time reduced by five seconds. PWAs have also maintained the success of audio streaming apps like Spotify, online travel agency apps like Trivago and food chains like Starbucks. PWAs just need to outshine native apps in the case of hardware-specific technical capabilities, privacy and security measures and very soon, mobile apps could lose their relevance. It would be a smarter option for mobile application consultants and Android and iOS application development companies to shift their time, energy and creativity into improvising PWAs into becoming the best alternative for mobile apps because the idea of having an app on your device without having to download or install it is soon about to become the norm.