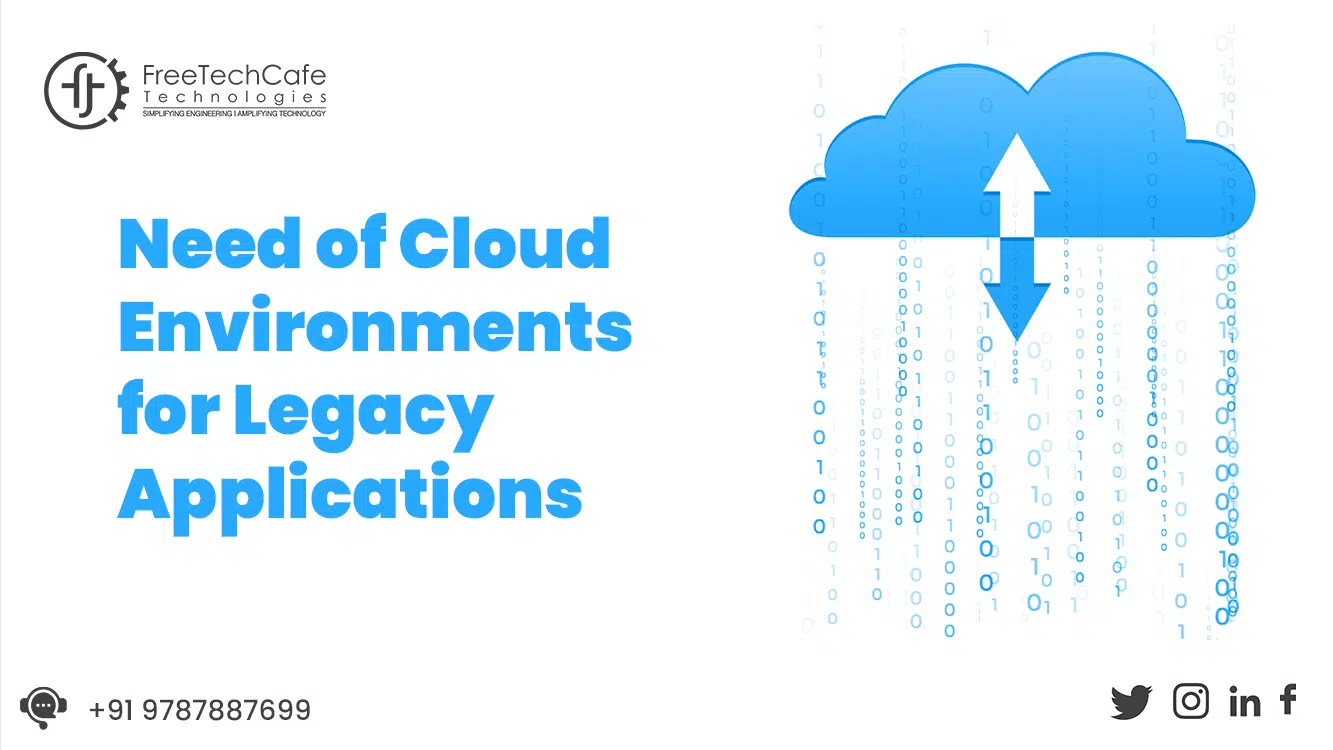 June 22, 2022

FreeTechCafe

0
The evolution of the technological era is happening at a better pace than one has envisioned. Do you wish to keep up with these cutting-edge changes in technology? Has your organisation shown a statistical decline in overall business activity and user engagement? If so, it is high time you stop letting outdated applications from sabotaging your company's success. The following are four reasons why you should let go of legacy applications and move to cloud environments. 
1. Maintaining legacy software is expensive. 
One of the reasons why companies relegate themselves to inferior positions by retaining legacy applications is to save money. They believe that moving to modern applications will cost a lot of money. But contrary to their expectations, operating their business using outdated systems is, in fact, the very reason for unnecessary expenditure. Finding skilled personnel who are familiar with the obsolete mechanisms is in itself a tedious and expensive process. Adding to this, other maintenance costs incurred while attempting to meet the global standards of service while using legacy applications will cause a significant financial setback. 
2. The vulnerability of legacy applications to security threats is large. 
The technological revolution has led to new and improved methods of cybersecurity. Legacy applications still use outdated security mechanisms that are easier to breach by hackers, rendering them more vulnerable to cyber-attacks. The absence of regular updates and newer versions can cause the failure of legacy applications to keep up with the latest and better cybersecurity strategies because these novel measures cannot be implemented on older and outdated systems. 
3. Legacy systems can be inefficient in terms of speed and performance. 
The outdated features of legacy software can immensely affect their speed while executing tasks. They draw more resources and energy to achieve optimum functioning, making them extremely unstable — this causes the systems to slow down. The use of these applications will also cause inefficiency because the input will be much greater than the output, depleting time, energy and resources while bringing minimal productivity. Hence the performance of legacy applications will decrease drastically with time. 
4. Legacy applications are mostly incompatible with current and advanced technology. 
The technology that we see today has been designed to function in relation to one another. The current blueprint for efficient software relies on the integration with other technologies to produce the most efficient and desired results. Legacy applications are mostly designed to work on their own without the provision of integrating them with other applications. Hence they will fail to meet the current demands as they are not compatible with current and advanced technology. 
Cloud computing, on the other hand, mitigates all these problems and presents you with the best strategies and efficient systems for your applications that will help you boost your business and launch you towards lasting victory. Applications built from cloud environments are cost-effective, secure, fast, efficient, and compatible with the latest technologies. They comply with international standards and produce better results than legacy applications. 
Now that you know why you should discard legacy applications and adopt cloud-based applications, the next step is to understand how you can make this transition possible. The following are the basic steps involved in migrating legacy applications to cloud environments. 
1. Perform a SWOT analysis and enumerate business objectives. 
Conducting an analysis of the strengths, weaknesses, opportunities and threats (SWOT) in cloud migration will help you better understand the migration requirements and the precautions you need to take. This analysis will make you better equipped with the necessary information and tools that are essential during the transition. It will also help you be prepared for any challenges you might face during the process. Based on the results of the SWOT analysis, you can develop precise business goals and long-term objectives that will guide the activities of your organisation.  
2. Audit your applications. 
Have a clear idea about every aspect of your legacy applications before you embark on the journey of cloud migration. Figure out which elements can be easily moved to the cloud environment with minimal changes and which elements require thorough modification to increase their adaptability to the cloud. Auditing the applications will help you in determining those apps that require refactoring. 
3. Define a migration strategy. 
Having a well-designed cloud migration strategy is essential to the success of your transition from a legacy application to a cloud-based application. The significant migration strategies are as follows: 
Based on the requirements of your application and the objectives and goals of your business, you must choose the right strategy for the migration of your legacy applications to the cloud. 
4. Explore microservices options. 
Conduct a detailed study of the microservices that will go into the architecture of your application. Planning and exploring the microservices options early on will give you an added advantage of better preparation. 
5. Choose the right cloud partner. 
The most daunting yet crucial task during cloud migration is choosing the best-suited cloud partner for your organisation. If you work with a cloud partner that does not align with your vision and requirements, your organisation will experience its brunt. Partnership with an incompatible cloud services company will be detrimental to the success of your organisation. Hence, you must spend adequate time and resources to do a thorough background check on prospective cloud partners before you narrow down the perfect partner for your business. 
6. Migrate your application from legacy to cloud. 
The migration of your application to the cloud must take place in an orderly fashion — stick to the migration plan and engage in the process step-by-step so that you dot all the 'i' s and cross all the 't's.  
It is time for you to break free from the shackles laid by legacy applications and move towards modern, efficient and cutting-edge applications that are rooted in cloud environments. Using the primary steps mentioned above, gradually execute the transition to cloud-based applications so that you can keep up with the current business requirements and gain more customer engagement which in turn will lead to the success of your business.