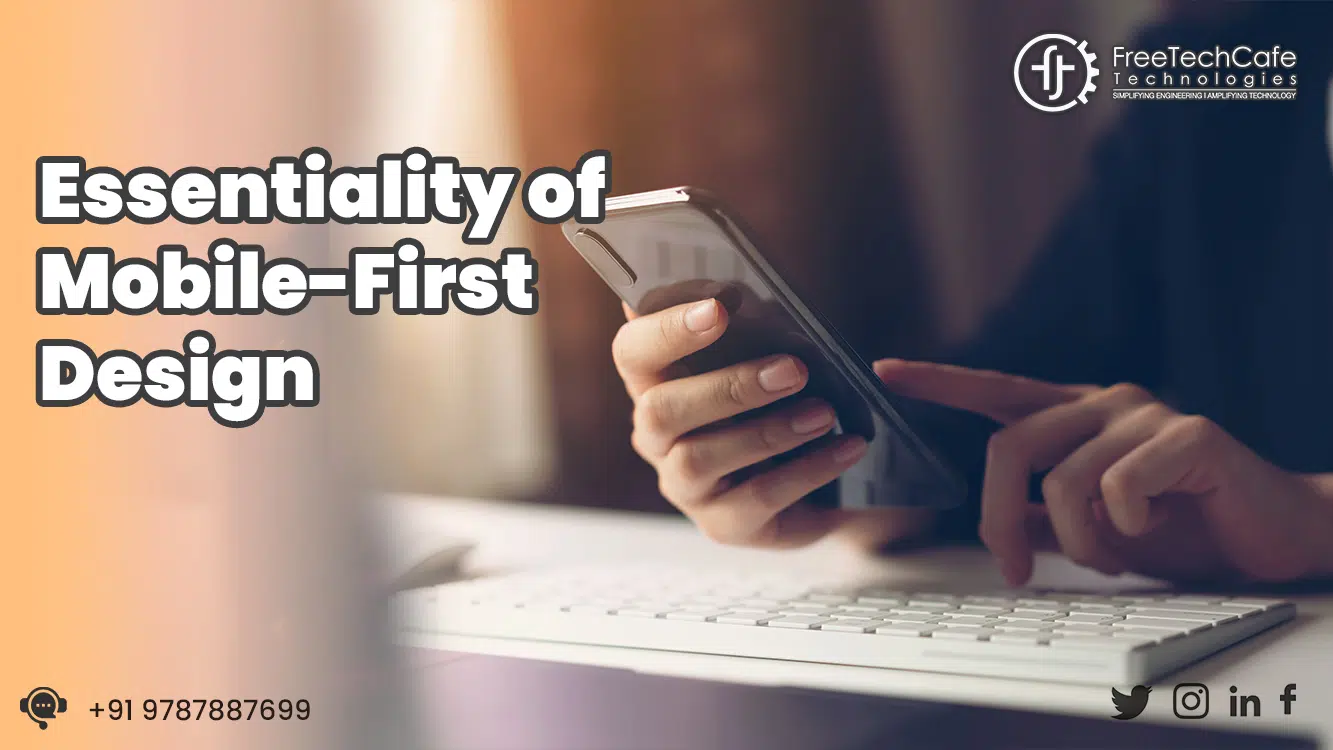 August 24, 2022

FreeTechCafe

0
Mobile-first refers to the design philosophy in web development services that prioritises the layout, appearance and functioning of web projects to fit on a mobile screen right from its initial stages of development. The idea is to master a design that can be successfully accommodated into a small screen, with just the most important features that form the backbone of the web project. Mobile-first design is now gaining great praise as a work approach in custom application development services for a wide variety of reasons. Here is a list of some of the key features that make it a winning approach in the field of web development services across the world.
1. Focuses on a user-first ideology
51% of the world population, that is, over two billion people, are known to use the internet from their smartphones alone. The proportion has been calculated to shoot up to a whopping 72.5% in the next three years alone. Given that such a large section of the global population's access to the internet is bound to smartphone screens alone, it is only fitting that custom application development services keep up the pace and hone their products to fit these screens as well, bringing their technology to the user's fingertips. No doubt, web development services that cannot guarantee a quality user experience on a phone screen will have a hard time competing in this rapidly expanding technological world.
2. Greater Accessibility and Followership
Smartphones have become an instant, long-lasting crowd pleaser because of the vast world of technology it has brought to the masses in a lightweight capsule form. The easy accessibility, affordable prices, wide range of choices and services offered, along with the convenience of having it all fit your pocket, is the best part about mobile phones. Being available on such a vastly used device is the easiest way for an application or website to be discovered as far as web development services are concerned. In addition to more excellent public followership, designs that are pushed to be readable on small screens also make them more concise and accessible to user groups facing visual and cognitive challenges as well.
Mobile-first designs offer custom application development services a greater shot at progressive advancement. The idea is quite simple. Since the initial prototype or layout of the website is based on how it will look on a mobile screen, it is then easier to move to bigger screens later on by the addition of more features. Designing for a small screen first, and working your way up to bigger screens later, empowers designers to pay greater attention to the basics. This way, the most critical UX components of the program remain to be the ones that can be improved upon later to fit greater screen dimensions.
4. Greater Compatibility and Scope for Development
The greatest thing about any mobile-first design is that it leaves lots of room for development. Anything that works efficiently on a mobile screen can be improved upon to be adapted onto bigger devices and user platforms. Mobile-first designs also leave custom application development services with more significant opportunities for expansion into real-time, user-interactive web experiences and services from the comfort of a mobile screen.
5. Eliminates the risk of graceful degradation
Graceful degradation happens when a web design is created with the dimensions of a larger screen in mind. Here, the design has to be worked on backwards, stripping away features, design intricacies and details to fit smaller screen dimensions. This compromises the design and functioning, degrading the website at every step until what is left in the mobile version is a weak, inefficient outline of the actual design. Mobile-first design elevates the user experience on mobiles from being a watered-down version to the original. This way, the user associates the mobile version with the authentic experience of the programme, with improved options and more meaningful choices as they move from phones to the bigger screens of tablets or desktops.
Designing to fit a small screen makes web development services prioritise your key features. Starting within the restrictions of a small screen makes the design custom fitted for maximum efficiency under limitations of bandwidth and lack of features like multitasking and greater functionality and storage space. The most uncomplicated design created to fit the smallest screen hence becomes the easiest version for the user to navigate, with just the essential elements of the website on display at all times. This prioritisation of essential features also makes it much easier to pick areas of focus while adding advanced features and extended functionality with more screen space.
7. A better understanding of core functions
Mobile-first designs enable designers of Custom Application Development Services to identify and incorporate the most important UX components of the product at the earliest stages of the designing process. The small screen design has to be just the essential features, meaning, the core of your UX is already a full-fledged, independent product. These core functions determine the basic design and behaviour of the website, no matter how much they are expanded on in later stages. This principle of sticking to the basics and then working your way up enables custom application development services to ensure that the right user experience is delivered, across devices, users and platforms.
8. Increased Speed and relevance
Time is of the essence for any smartphone user. The aim of a Mobile-first design should hence be to provide the user with the most relevant information regarding their search and to do so within the shortest amount of time. The arrangement of information, both in terms of structural coherence, appearance and relevance, has to be precise and efficient. A mobile-first design enables custom application development services to identify these determining characteristics of a project in the earliest stages itself by focusing on the hierarchy of information. What needs to be displayed upfront for the user to spot easily is most likely an asset in terms of content and, therefore, a necessary element that needs to be carried forward into upgraded designs as well.
These reasons are clear indicators of why you should use a mobile-first design in your web project. In conclusion, mobile-first design is a great approach to ensure success while creating a website or application using custom application development service providers. As a design ideology, it ensures great flexibility and scope for future advancements in design, making it a crowd pleaser across the globe.