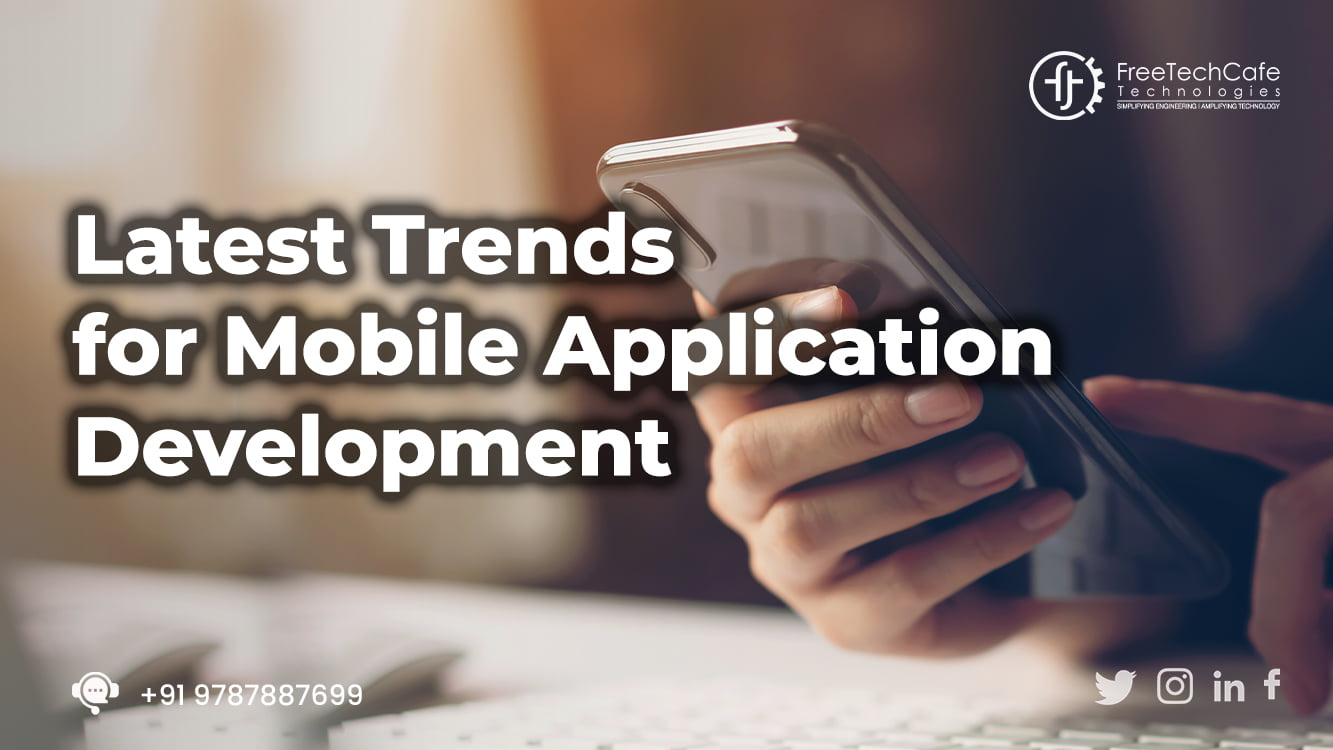 December 19, 2022

FreeTechCafe

0
Just have a quick rollback where we don't have Mobile Applications!
Did you ever imagine you could buy your movie tickets at a single tap or book an instant cab for yourself if you are in the past two decades?
Due to a lack of advanced technologies, there are no online ticket booking apps, eCommerce applications, ride-sharing apps, food & grocery delivery apps, etc.
Recently, we have been accessing these apps from our couches instead of spending time in spots. As you are thinking, many mobile applications simplify essential tasks with the utmost accuracy in minimal time, transforming our daily lives.
Mobile applications are on track to ease the life of general routines and facilitate the business complexities in various industries, such as Chatbots in Healthcare, AI-based LMS in E-learning, mCommerce applications and so on. From Small-scale to Large-scale enterprises, Mobile Applications play a vital role in facilitating the complexities in their internal and related operations with high accuracy.
Within 2026, the Healthcare Chatbot Mobile Apps will save $543.65 million by avoiding unnecessary expenditures in direct consultations, consulting time, and so on. Likewise, many industries can simplify business hurdles with modern mobile applications according to their requirements. This article aims to list the advanced technologies that enhance mobile application features.
Mobile Application Trends in 2023
1. Artificial Intelligence & Machine Learning
AI & ML algorithms simplified the time-consuming process of Mobile Application Development. The algorithms streamline the development process and minimize errors. The developers focus on NLPs, Heuristic approaches, Artificial Neural networks and Recommendation systems to identify User behaviours. Many industries, such as Healthcare, Retail, Supply Chain and Logistics, are accessing AI & ML-based Mobile Applications for commercial purposes to improve efficiency.
2. Chatbots
Chatbots will simplify your user's needs in a fraction of a second around the clock. They enrich customer service through certain strategies: sentiment analysis, semantic search, voice recognition, and so on. These bots are already revolutionizing many industries, such as Healthcare, Finance & Banking, Food & Beverage, etc.
3. Cloud computing
Cloud computing is a boon for Mobile Applications to enhance high security for your users with high-speed data access all the time. The scalability of the Cloud enhances the storage capacity according to the requirements. Not only Healthcare but many industries also incorporate Cloud-based applications for their internal and commercial operations.
4. Cross-Platform Mobile App Development
According to recent market strength, other operating systems are emerging apart from Android and iOS to provide better user experience with unique features. In such cases, the developers will stump to build a mobile application that runs on all operating systems. Accessing a Single source code for various platforms will simplify the developer's burden and speed up the development process.
5. Internet of Things
IoT is one of the most recent trends in mobile application development in various sectors such as e-commerce, healthcare, supply chain and logistics. IoT allows users to access a gadget worldwide with a smart mobile application. Most manufacturing industries access IoT-based automation techniques to minimize manual errors and time-consuming processes for tedious tasks.
6. Predictive Analytics
Predictive Analytics effectively predicts and suggests that business owners customize the products according to their customer's requirements. It predicts the future using the recent data of customers using strategies such as data mining, statistics and machine learning. Especially in eCommerce, recommendation systems can effectively enhance high purchase values. Likewise, most industries started adopting predictive analytics to forecast their business flows.
7. Progressive Web Apps
PWAs save lots of space for your users and facilitates the major features of native applications. It won't consume your user's space and is easy to access with less loading time in all browsers. The ultimate objective of PWAs is to achieve the business goal compared with minimal cost than native applications.
8. Beacon Technology
Beacon Technology is becoming a boon for the Marketing and Retailing industry. This technology works well to track your customer's in-store purchase behaviours. This technology encompasses promoting the ads such as offers and coupons to attract existing customers within the specified geographical location.
9. Blockchain
The ultimate objective of Blockchain is to provide high data security for users with a cryptography method. For an attacker, it's tedious to do malicious activity mainly because of the hash value integration in every block. Industries such as Finance, Healthcare highly prefer Blockchain technology for their users to provide high data security.
10. mCommerce
mCommerce is a sub-group of eCommerce which simply focuses on mobile applications for shopping, such as smartphones, and tablets. According to recent research, 72% of smartphone users install and access mCommerce applications. mCommerce effectively skyrockets the retail industry into the next era.
Quick Summary
Mobile Applications are at their peak to provide all kinds of solutions for every industry to the end users. In this decade, Mobile Applications transformed business growth towards the graph. Business owners are seeking the best solutions for their business transformation and looking for the best mobile application development company to provide optimum cost-effective, and high-reliability solutions.
Frequently Asked Questions
1. What kind of Mobile Applications will be in high demand by 2023?
The Mobile Applications which have to access rate, according to 2020 – 2022 research,
Food Delivery Applications
Social Media Applications
Video Chat Applications
Ride Sharing Applications
E-learning Applications
Healthcare Chatbot Applications
2. What is the difference between Native and Cross-Platform Application Development?
With Native Applications, separate code has to develop for Android and iOS according to each operating system's compatibility. In Cross-Platform Applications, the single source code is enough for Android and iOS. Comparatively, Cross-Platform Applications are cost-effective, easy to develop and run-on multiple platforms with the same functionalities.
3. Which platform—Android or iOS—should we launch our application on?
In the past, enterprises might have decided to create apps that support just one platform. Today, both the Android and iOS platforms have sizable market shares. Thus, the majority of businesses decide to create apps that are compatible with both.
4. Can you work with us if we need a fully formalized idea for our Business Application?
FreeTechCafe is open to uniting with businesses whose app concepts are in various phases of development. Together, we can turn your concepts into fully functional mobile apps. Our experts will assist you at each phase of development with the utmost care.