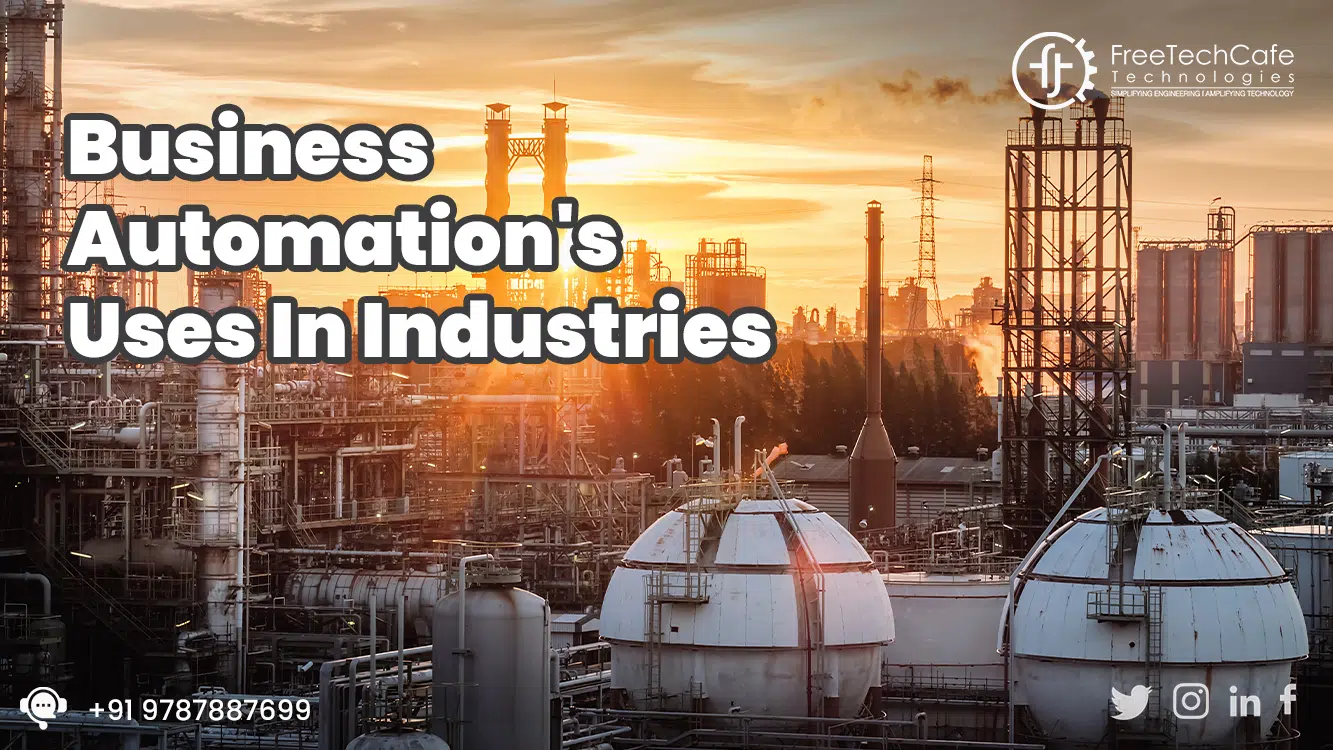 May 18, 2022

FreeTechCafe

0
Industry 4.0 has revolutionized the world of businesses by spearheading the digitisation of the manufacturing industry and broadening the horizons of business automation. Business process automation has become a weapon to survive the race in this increasingly turbulent and competitive technological landscape. By offering options for managing virtual infrastructure, business automation services aim to improve the overall efficiency and visibility of a company. Let us explore the services unlocked when business automation and Industry 4.0 function as two sides of the same coin. 
Cloud computing is a game-changer for businesses as it is a service equipped to control the virtualisation, servers, storage and networking for organisations by ensuring seamless connectivity. As opposed to an on-premises setup which calls for heavy infrastructural and maintenance costs, your cloud service providers can maintain servers by handling any level of scalability of your company without compromising on the data security. Employing cloud computing saves hours for your team as it provides 'back-up and restore' options, quick and easy data access and promised flexibility in case of data reconstruction. Compared to an on-premises system which takes up server space and requires additional hardware and software maintenance, the cloud computing system takes up zero server space and no additional experts other than your cloud service provider are required for the maintenance of your server. The investment in this web app development service is reasonable, owing to the unlimited storage capacity it offers, the various cloud computing service model options to choose from and the convenient pay-per-use systems. As your cloud service provider would need to be highly competitive to meet your compliance, your provider would go to amazing lengths to utilize data security opportunities. 
An incredible business automation service that involves the connection of devices through the internet, IoT options grant improved responses, monitoring and analytical services through automatic data transfer. The dispute resolution mechanism of IoT ensures the flawless functioning of all the devices, sensors and gateways involved. IoT solutions for your business would improve the productivity and time management of your team, enabling your team to focus on tasks that require the human touch. As scheduling and managing would be automatic, business operations can be implemented resourcefully and cost-effectively with IoT solutions. The decreased probability for human error, the systematic and orderly operations ensured by automation and the capability to track and analyse progress open up umpteen business possibilities. Hence IoT is a whole package capable of transforming your company as it would attract more customers, boost the competitiveness of your company and open better business opportunities. 
The enterprise software development offered by big data analytics enables the storing, processing and analysing of big data in an organised manner, as opposed to a traditional computing system. By generating recommendation systems and data filtering tools through algorithms, big data analytics assists you to comprehend chaotic data in a way that focuses on the success of your business. Factors such as recurring patterns and hidden correlations can be quickly detected through big data analytics. Coupled with this, the big data analytics system assists in the monitoring of market trends, competitor insights and customer responses, thereby enabling you to make informed decisions that can enhance the quality of your product development. By keeping you laser focussed and equipped enough to manage risks and by making favourable predictions in advance, this business automation service can also save your business from unforeseen fraudulent scenarios. Employing big data services is extremely profitable for your business because of the incredible product returns powered by big data analytics. Thorough data-driven decisions granted by big data analytics through the descriptive, diagnostic, predictive and prescriptive options of analyses provided by it can surely reveal your company's true potential.                         
Your digitalized business being a virtual treasure chest, hackers can make targeted attacks to retrieve confidential information or to delete valuable reports crucial for your business. Networks can be flooded with traffic, disrupting your services to your customers and it is pointless to build a business without meaning to protect it at all costs. Cyber security is hence never just an option but a compulsory step. Data and business networks ought to be consistently protected from unauthorised digital access and appropriate cyber security can be implemented based on the network type and the kind of cyber attack your business is prone to. Cyber security professionals can identify potential security threats, approach situations like hackers and design the security-software architecture perfect for your business. For example, your cyber security service providers can create anti-virus software and install firewalls capable of filtering incoming and outgoing traffic. In addition to safeguarding your business from possibly irreparable losses, cyber security also inspires your customers' trust in you. 
Even though the limits of AI are yet to be explored, AI has uplifted the field of business automation to amazing heights. From employee recruitment to professional virtual assistants for your customers, intelligent automation enhances business intelligence reporting, also implementing targeted marketing strategies and reliable security operations. The future of business automation is also blessed by the prospects of additive manufacturing that would enable the creation of complex structural units capable of expanding the range of software manufacturing. Immersive technologies such as virtual reality and augmented reality have proven to be made for the masses. They offer interactive and personalised experiences, boosting up user engagement without irritable cognitive overload. The field of advanced robotics is expected to majorly occupy the manufacturing industries in the near future by removing the urgency of human labour from the equation and changing the course of history forever. 
The technological revolution unveiled by Industry 4.0 and the business automation services kickstarted by it has saved tremendous amounts of human labour. Businesses now have a newfound level of control and power to manoeuvre their successes like never before.