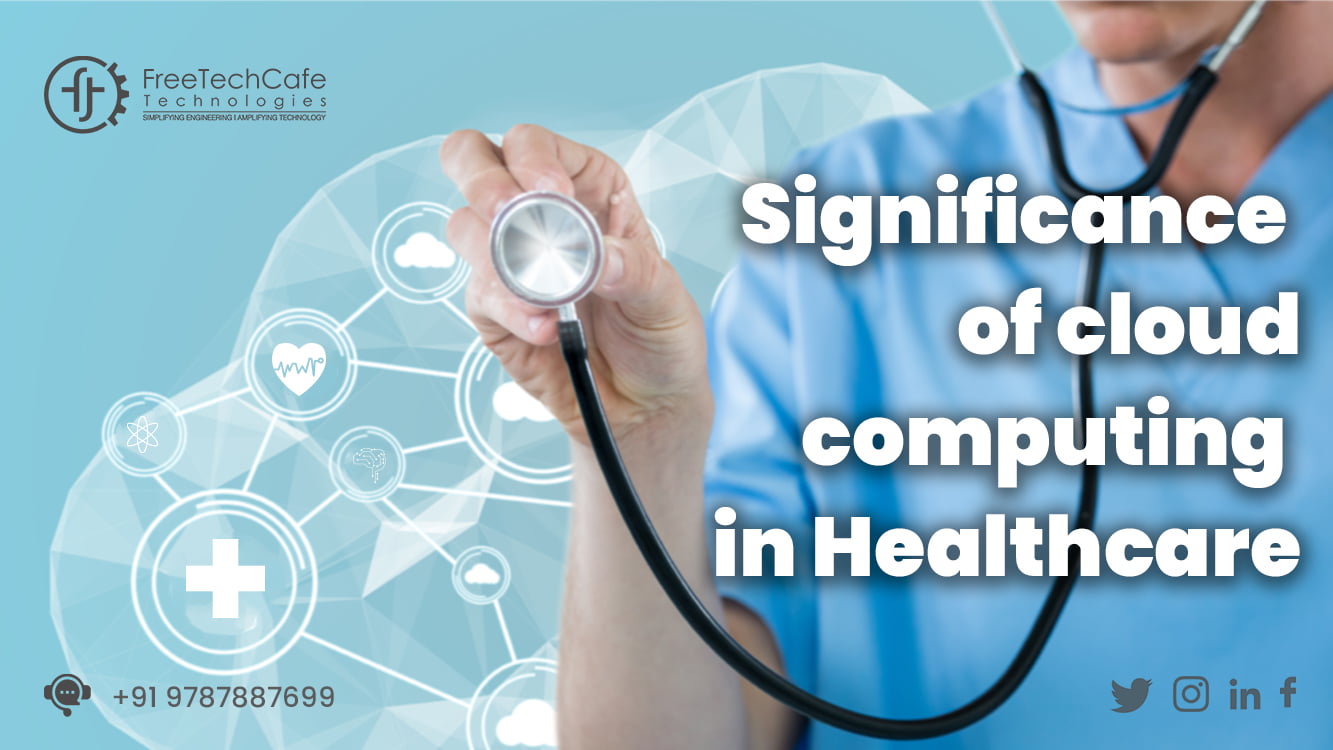 December 12, 2022

FreeTechCafe

0
The ultimate reason for the birth of cloud computing is to provide various kinds of services via the Internet. Inclusive of applications, tools, databases, servers, networking and software. Cloud-based storage is efficient for storing the data virtually, rather than in hard drives or any form of local storage, even as paper records.
"The cloud services companies of all sizes…The cloud is for everyone. The cloud is a democracy." –Marc Benioff.
As per Marc Benioff's quote, no Industry exists without the intervention of cloud computing. Likewise, Healthcare requires tremendous support from Cloud computing, especially to store and access an immense number of medical records and reports of patients.
What are all the benefits of Cloud computing in the Healthcare Industry?
Ease of Data Access
Managing and Streamlining Electronic Medical records
Patient-Centric approach
Increased Scalability
Efficient Interoperability
Effective interaction between doctors and specialists
Effective Data storage capacity
Enables Data-driven decision making
Disaster recovery
Ease of Data Access
In the olden days, searching for a record was a tedious process. In the Later period, the hard disk storage systems resolved this issue, which increased data access speed. But the drive can only fetch the data slowly because of the huge volume of data.
Cloud storage systems eliminate the time-consuming process of data retrieval.
Managing and Streamlining the Electronic Medical records
As the data is digitally transformed, doctors and practitioners prefer EHRs (Electronic Health Records) and EMRs (Electronic Medical records). Despite improvements in EHRs and EMRs, shortcomings still exist. 
For instance, many facilities still follow the handwritten format. Connecting patient charts to another device is challenging, and cloud computing will resolve this challenge with interconnection between telehealth programs and systems.
In addition, NLP (Natural Language Processing) lends a hand to cloud computing which treats and composes the unstructured data collected and generated by Physician's notes.
Patient-Centric approach
With access to the Internet, a patient can access his health-related reports remotely and immediately. The patients can also access these technologies and features;
Tracking and monitoring the healthcare charges and bills 
Seek a healthcare provider based on location, cost and time
Notifications through text messages
Online communication
Online appointments and consultations on a scheduled basis
There are no vast restrictions on data access in healthcare, which makes the data more democratic. This key feature enhances the doctor's transparency in patient pricing and billing, increasing customized interactions. This credibility increases the trust of customers in medical professionals.
Increased Scalability
Self-hosted storage solutions enforce restrictions on the data capacity. It needs to expand for storage, which is expensive, for infrastructure and also for IT-based resources.
Cloud computing resolves this challenge via flexibility. Most healthcare providers offer PAYG (Pay-As-You-Go) Subscriptions for customers, which they can access according to their usage.
Generally, cloud providers access and handle data security and upgrades in software and hardware. This practice will effectively ignore the purchase of unwanted extra hardware storage and also upgrades in software. This cloud computing strategy applies to practitioners and also to huge businesses. According to recent stats, there is no need to install any physical equipment for storage purposes in the healthcare Industry.
Efficient Interoperability
Interoperability is simply transferring or exchanging the required data throughout the organization so that the corresponding medical experts can effectively access the data. It will give a hand in sharing patient data from medical equipment through linked digital devices for the above purpose, making the data credible. This strategy will offer access to patient data between payers and providers. 
Data integrations based on the cloud enrich the ease of data access and transferring information for entire healthcare systems. Based on interoperability, cloud computing enhances the healthcare industry to the next level through;
Based on API strategies, executing and managing patient data becomes more straightforward. The provider's databases can be effectively maintained and updated by using API.
Effectively observe the public reporting guidelines and block information that is not required. 
The integrated data ensures the admission, discharge and transfer of money become effective and easier.
Good credibility in payer-to-payer data exchange
Effective interaction between doctors and specialists
Cloud computing leverage the interactive issues between Patients and Doctors. With the support of EHR (Electronic Health Records), view patients' test results. It's not just an exchange of information, an enhanced version of scheduling video conferencing, calls and text messages that remove the geographical barriers and solve minor patient issues.
Effective Data storage capacity
As data generation is tremendous in the healthcare industry, the huge amount of digital medical equipment makes it tedious to maintain and retrieve the data.
Healthcare providers can't be able to focus on data security and patching rather than on patient data entry. The technical team has to focus on data security and patching in software and hardware, which consumes physical storage.
As cloud storage is less-intensive, Healthcare can concentrate on the patient's requirements and entries alone. The cloud provider will handle the remaining technical support for the storage process. Even though any technical issues arise, those can be effectively resolved by the technical team remotely.
Enables Data-driven decision making
As the cloud intervened in Healthcare, Big data also supports its prominent role in accumulating and manipulating those data. As the data volume is comparatively higher, AI and ML-based cloud strategies are incorporated to reduce the complexities in data handling, leading to efficient clinical decisions in a fraction of a second. Cloud computing gears healthcare by detecting and reverting public health threats with advanced technology. As we have gone through Big Data, cloud-oriented data analytics enrich the relationship between patients and practitioners in personalized care for every individual.
Disaster recovery
As the volume of data is immense, the possibility of data loss is high. To eliminate this particular issue in Healthcare, in traditional storage patterns. Cloud computing trend sets for the high security of data and prevents data loss. Cloud computing ensures Fault tolerance which bypasses data loss. Even if any data loss occurs, minimal efforts are required to recover the data. It can automate the backup and restore process. This strategy reduces a huge amount of backend work for the technical team.
Quick Summary
Cloud computing places its footprints in all industries. In Healthcare, cloud computing has become a game-changer. It propelled Healthcare with accuracy and efficiency, which supports many patients and practitioners to access the data one at a time. So far, in this decade, the cloud has boosted healthcare data with good security and maintenance by coordinating with the proper technical team.
What great news is waiting for business people like you next?
We pat ourselves for providing excellent Cloud computing solutions globally. We are not only into Cloud-based services. Check here for more services by our professionals.
To know more about Cloud computing services for any business, reach our technical experts at your time! According to your business needs, assured absolute solutions globally.