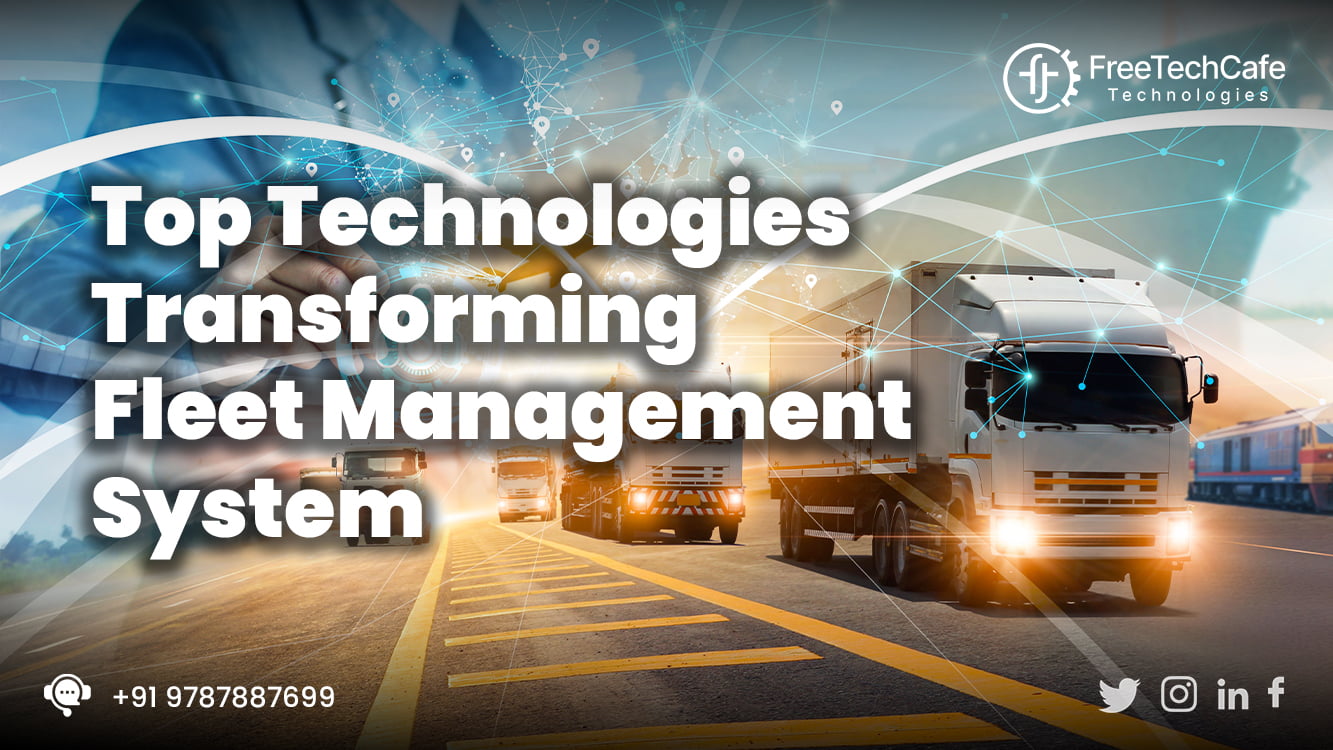 March 13, 2023

FreeTechCafe

0
Thousands of fleet vehicles, including heavy-duty trucks, vans, and commercial cars, travel the roads daily, transporting the products that fuel the global economy. Fleet Management System eliminates many business hurdles and can generate more revenue for the organization.
The coordination of hundreds of different factors is necessary for effective fleet management, including the selection, acquisition, and maintenance of vehicles; the employment of qualified drivers and technicians; the planning of efficient delivery routes and schedules; the ability to deal with erratic economic conditions and rising fuel prices; and the use of a limited amount of capital, all while staying current with fleet management technologies and governmental regulations.
Today's top fleet management solution providers have improved their specialized fleet management solutions to satisfy their clients' short- and long-term objectives. All business owners are praising technology advancements in fleet management due to the variety available, which ranges from simple truck rentals to full turnkey solutions that handle everything from hiring a third party to handle the technical details to financing and purchasing the vehicle, ongoing maintenance, and even hiring, supervising, and training professional drivers.
By 2022, the fleet management market reached $25.5 billion and is about to reach $52.4 billion by 2027. It continues to expand at a CAGR of 15.5%.
This article will discuss various industry developments and the technology reshaping fleet management. But first, let's quickly review why fleet management technology is necessary.
Why Is Fleet Management System Essential?
Fleet management technological advancements have made optimizing operations a flexible process that may save enterprises money and time.
Fleet management systems enable business owners to adapt more effectively to the market's changing conditions.
Any business challenges, notably driver retention, fueling issues, and new compliance regulations, may be resolved after the successful implementation of fleet management technology into business operations.
Furthermore, fleet owners may utilize these technologies from the comfort of their offices to keep an eye on a variety of features of their fleet, including refuelling, the start and end of journeys, battery degeneration, engine difficulties, and other concerns.
For improved functionality, fleet management technology easily connects with various external third-party systems. Upcoming technological advancements such as mobility-as-a-service, 5G networks, and Telematics are preparing to raise fleet management to a completely new level.
These are some examples of how technology has changed and improved fleet management for both employers and employees.
Need for Fleet Management Systems
There is a wide range of technologies to maintain the fleets, improve the firm's advantage, and solve several challenges. Check out a few of them.
Notices Distracted Driving
Handling company vehicles carelessly, especially ones with wraps, might harm the brand's reputation. Thankfully, cutting-edge fleet management systems allow fleet leaders to track driver's dangerous and distracted driving habits.
Improved Insights
As opposed to conventional approaches, new fleet management technologies have made it possible for fleet managers to compile a large amount of data on fleet activities. Nevertheless, the availability of large amounts of data causes an issue with data processing that only big data can solve.
With big data, fleet management companies may conduct financial analyses and gather information on the performance of their products and vehicle. They may also deduce trends from their fleet, suppliers, manufacturers, and workers that can guide business choices.
Alert the Drivers
To keep drivers safe, fleet managers may utilize GPS monitoring to estimate their vehicles' precise position, speed, employee hours, distance, and stops. A GPS monitoring device, for instance, can alert drivers of other vehicles approaching a corrective bend.
Moreover, geofencing restricts vehicle movement to a designated delivery region. Business owners will promptly get notifications to rapidly identify drivers who deviate from their routes and use the shorter routes to reduce the distance travelled and the quantity of fuel used.
Determine Maintenance Needs
By tracking vehicle performance, business owners can predict performance and condition. It is possible to entirely exclude the possibility of future repair expenses interfering with fleet operations by scheduling vehicle maintenance and service in advance.
Devise Routes
Business owners need a strategy for their ride. Automated route planning assists fleet owners in avoiding potential delays as well as reducing fuel consumption by calculating the quickest route. That is possible by using sophisticated navigational technologies.
Adopting Advanced Fleet Management Technology
The adoption of fleet management technology trends in recent years has shown that doing so can be quite advantageous for a business while also having a good effect on those that have previously used it. For instance, according to a Verizon survey, 52% of firms reported lower fuel expenses and fewer accidents due to their investments in fleet management systems.
To increase Fleet Management Systems, there are several cutting-edge technologies available. Look at it.
AI & ML Dash Cams
AI & ML continuously strive to offer practical solutions to prominent supply chain fleet management issues. Your fleet needs AI dash cameras with real-time issue detection and proactive in-cab training to protect drivers and cut expenses. Tracking your drivers not only allows you to teach through real-world scenarios but also enables you to see any unsafe driving practices right away.
Using AI and ML in fleet management, you can handle the voluminous paperwork associated with working with suppliers, OEMs, customers, insurance companies, and many other parties. ML and AI may also handle the processing of delicate legal documents and the screening for terms and phrases deemed harmful to the organization.
IoT
Sensors made possible by IoT warn owners and managers of any potential shipment damage. The sensors are not deceived by sudden shocks, variations in humidity and temperature, or even the light around the package. With IoT, businesses can identify and reduce the factors that lead to product damage. With this information, damaged items may also be proactively fixed or removed before being shipped to customers.
This Internet of Things (IoT) technology in fleet management goes beyond the automotive industry. It involves both the vehicle sensors and the fleet hubs' on-the-ground workers. Tablets and other portable gadgets have replaced notebooks. Now, the maintenance crew may promptly scan every vehicle component, updating the control study on the main hub in a flash. Your fleet managers can easily dispatch vehicles to keep up with demand while maintaining a competitive advantage in terms of quality through efficient ground operations.
Fuel Control Systems
Fuel waste is only one of many problems that any logistics company faces, so finding effective solutions is essential. Fuel management systems are one of the finest ways to reduce operational expenses. You may use software to keep an eye on how much fuel your fleet uses and how your drivers use their vehicles. If they are using ineffective ways, you may respond right away.
Build a Fleet Management System with FreeTechCafe

If you look back on FreeTechCafe's history, you'll realize that we've been able to work with many well-known multinationals to deliver some remarkable digital solutions. No matter the problem's complicated, FreeTechCafe's approach is clear-cut and easy to comprehend.
After extensively grasping the problem at hand, we make an effort to understand the market context in which your app is functioning. Based on those results, we develop, build, create, and implement a solution exclusively for your company and stick with you until you see success.