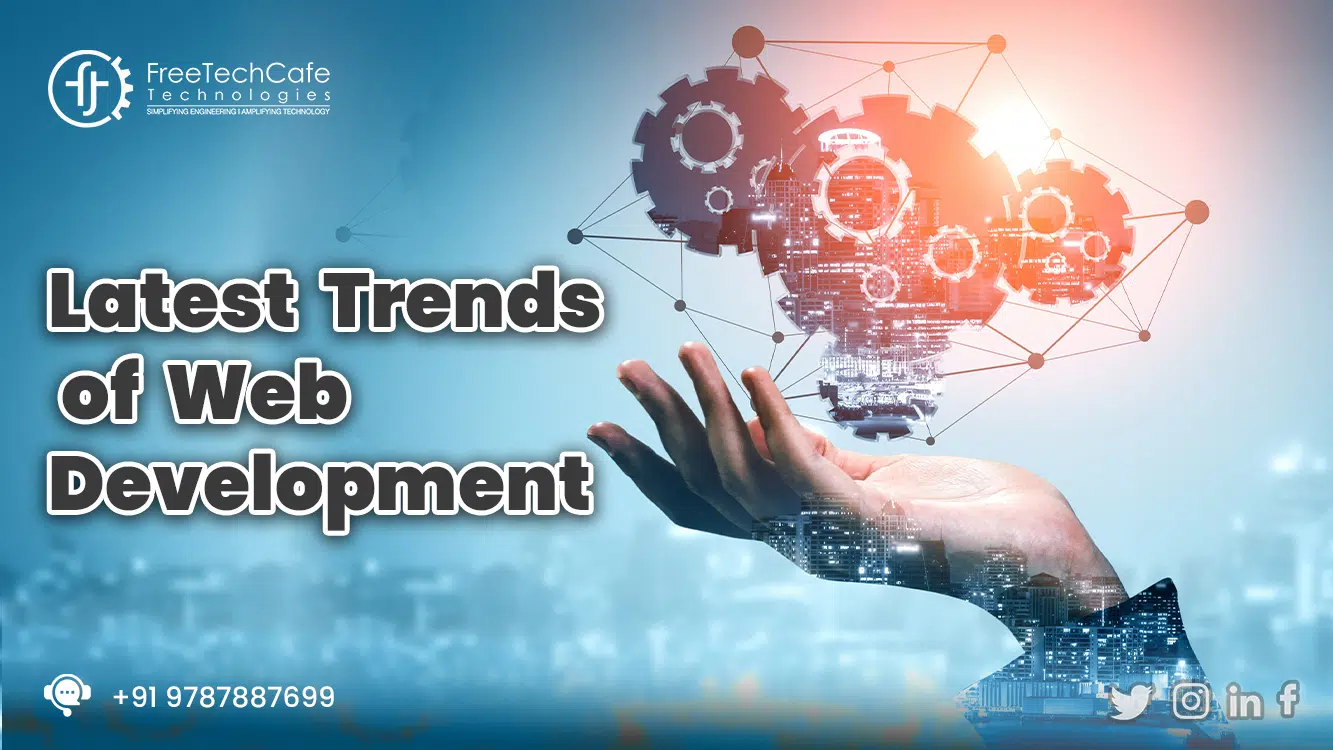 May 30, 2022

FreeTechCafe

0
The evolution of a business is crucially tied to its quick responses and easy adaptation to frequent changes in the market. In a period spearheaded by technology, to excel in your business, it is important to navigate the fluctuating nature of web development trends to your company's advantage. A web application development company can assist you to incorporate the latest technology into your projects in a way that focuses on your customers and reduces the chance of missed opportunities. The digital era has opened up a Pandora's box of exciting possibilities and here is a list of 9 web development trends you should never miss.
Blockchain technology elevates the professionalism of your company by extending services in the form of an open book and encouraging trust in your business. By enabling equal accessibility of information to both clients and concerned stakeholders of your company, the blockchain ensures accountability of action. Blockchain is a decentralised platform that facilitates quick transactions and ensures security by preventing room for malpractices. The blockchain influences effective marketing campaigns by providing major insights into customer preferences.
Walmart had suffered data inconsistencies and invoice discrepancies that demanded time-consuming reconciliations with its carriers. The DL Freight network supported 69 Walmart carriers by March 2021. As a result, invoice disputes that were at 70%, lowered to less than 1% thanks to the end-to-end supply chain visibility offered by DL Freight for Walmart and its carriers.
In the near future, PWAs are expected to evolve into an alternative for the native app itself. A PWA is preferable to customers as it can easily be installed and added to the home screen of mobile devices. A PWA gets updated by itself and occupies much lesser space than a native app would. For your business, invoking the PWA services of a web application development company could be a better gamble than building a native app from scratch. This is because building a PWA is cheaper as only a single code base that would make it compatible across all platforms would be required. Also, just like an MVP, PWAs can be improved along the way by considering customer feedback. This feature also eliminates the possibility of a complete app failure.
The introduction of its PWA by BMW increased the clicks to BMW's sale site by 4 times with a 49% increase in customer engagement compared to their old site. Moreover, mobile users of BMW increased by 50%.
Adopting a microservice architecture decreases developmental complexity as microservices come in the form of simple and easily alterable services that can be adapted and later upgraded in the process of building applications. Web application development service providers can offer microservices that would trigger the automation of most in-house processes. A concentrated and separate focus on each of the processes boosts the dedication of the team. Maximum productivity can be achieved in the shortest time possible through microservices and your company can respond quickly to varying market trends. It is the adoption of microservices that saved and transformed Amazon and enabled it to carry the weight of its increasing customer base.
Multi Experience Development Platform:
Web development service providers can build multi-experience platforms for apps, and your business could use this service to increase scalability and have positive control over users' experience. MXDPs support the efficiency of internal operations and as a single codebase is reused for multiple experiences, the app development process is crisp and effective making sure that the product reaches the market right on time. MXDPs provide a luxurious digital experience for users and boosts their brand loyalty. As of 2017, Amazon's Alexa accounted for 62% of the worldwide digital assistant market share and Alexa who had only 130 skills as of 2016, possessed 10000 skills by the next three years.
APIs would save time for your business as they reduce the duration and labour required for developing a product. APIs assist in cost-effective product building as they already possess a key functionality, enabling your business to focus on other important aspects. By operating as a glue that holds multiple software solutions together, APIs encourage compatibility between them in a way that focuses on your business goals. Custom application development service providers could build API that can assist businesses to provide customers with personalised experiences. eBay receives 60% of its company revenue from its APIs.
Entrusting a web application development company to build IoT solutions would eliminate the wasted labour hours for your business by enabling your team to focus on tasks that require the human touch. This improves the productivity and time management skills of your team. The automatic nature of scheduling and managing business operations makes IoT solutions resourceful and cost-effective. In addition to ensuring the least probability of human error and guaranteeing the systematic nature of operations, IoT also effectively tracks and evaluates business progress.
The Mercedes Me Connect app pairs the customer's device with the Mercedes vehicles, enabling the customer to avail of connected services that revolve around remote access and vehicle management. The app has proved to be successful in enhancing the customers' experience with the brand.
Data security is compulsory to prevent the loss or theft of critical business data and revenue. Private customer information could be misused and breaking the customer's trust is a setback major enough for any business to never recover from. It is said that it would take only less than a minute for a serious data security breach to take place. Data breaches could occur due to unchecked weak security systems, insider carelessness or insider betrayal and malware. In May 2017, the WannaCry ransomware attack affected 150 countries and it is said that it caused losses of up to $4 billion across the world. Data security service providers offer authorized and encrypted password protection and firewalls to safeguard your business data. All components of the IT infrastructure should be protected, security operations should be thoroughly updated at regular intervals and data access rights should be strictly monitored and accounted for. Through immaculate data security, customer trust can be guaranteed and loss of reputation and revenue can be prevented.
As long as digital documentation and online transactions exist, cyber security is a necessary investment. As technology is becoming more accommodative day by day hackers are improving their skills too. Invaluable data could be deleted or stolen and targeted invasions could be made to destroy businesses. Networks could also be plagued by traffic, intervening your services to your customers. Unauthorised digital access needs to be prevented and a suitable cyber security model ought to be designed based on the network type and the form of cyber attack your business could be subjected to. Potential security threats need to be identified in advance and cyber security service providers need to be hired to create the most appropriate safety architecture for your business. A solid and impenetrable cyber security system would also sustain the customers' trust.
A push notification is a major web app development service that also acts as a marketing strategy for businesses as it satisfies the goal of ensuring and maintaining customer engagement. A personalised chunk of content that resonates with the user, sent at the most appropriate time equates to a successful push notification. Its direct nature helps users to drown out the noise and focus on important content. Push notifications serve as a tool that could push the user into completing tasks and contribute to a productive lifestyle for the user. For businesses, being a part of their customer's daily life through push notifications is a way to build deeper relationships with the user, a tactic to improve marketing strategies and a method to generate revenue. As of 2021, push notifications have increased app retention rates from 3-10 times.
Klaus Schwab, engineer, economist and author of 'The Fourth Industrial Revolution' points out, 'In the new world, it is not the big fish which eats the small fish, it's the fast fish which eats the slow fish.' Technological advancements in the business world will continue to expand exponentially and web application development companies would serve as its backbone. For a business to thrive, the enterprise should always be ready to consistently adapt, improve and update itself at every new stage of evolution.