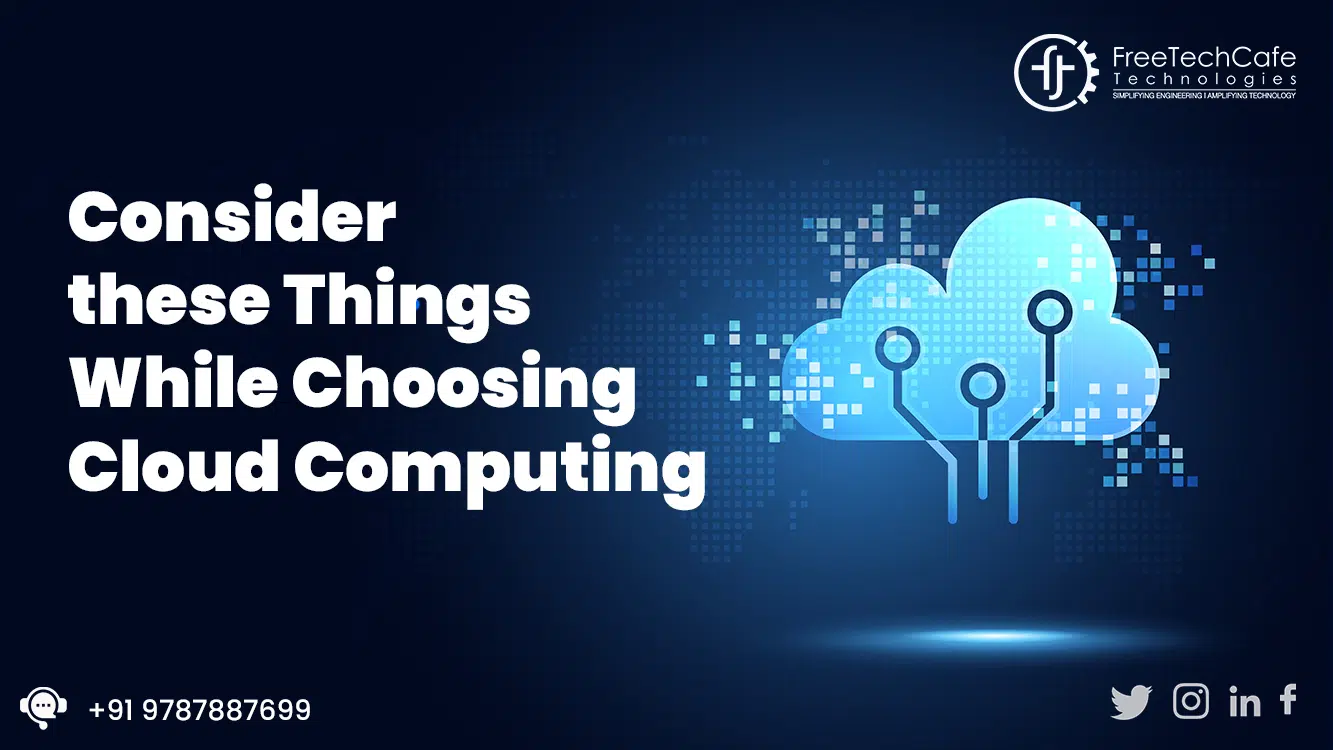 June 24, 2022

FreeTechCafe

0
Since organisations across the globe have seen a tremendous positive impact when they started operating their businesses in cloud environments, most companies these days are in a hurry to adopt cloud computing to modernise their business. It is true that migrating to the cloud can do wonders for your business but diving headfirst into it is not the right way to go. There are many underlying factors that you need to consider before making the transition from legacy systems to cloud-based systems. The following are five significant aspects that you should look at before choosing cloud computing. 
1. Define the business goals pertinent to cloud migration. 
The need to evaluate how the transition to a cloud environment can impact your business is the first aspect of the migration process on which you should focus. Enumerate the reasons why you intend to migrate your business to the cloud and analyse whether these reasons are strong and valid when it comes to adopting cloud computing. If your reasons are led by superficial elements like your desire to experiment with the cloud or emulate your competitors, please understand that these are wrong reasons that will hinder your business from moving ahead.  
Having clarity on why you need to move to the cloud is the crux from which your business objectives can be drawn. For instance, if you aim to use the cloud to meet the demands of your organisation in terms of scalability, infrastructure and quality of customer service, you have a logical and significant reason. This can be used to build one of your business goals: improving the operational efficiency and quality of applications to enhance user engagement and gain better conversions. The goals that you define must adhere to the SMART criteria – they must be specific, measurable, achievable, relevant and time-bound.  
2. Assess the current position of your organisation to determine the scope of cloud migration. 
Any transition to a newer, modern system will require a thorough analysis of the previous system. You need to understand everything there is to know about the existing elements of your business before you can shift the core of your organisation from the legacy systems to the cloud environment. Some of the essential aspects of your current business systems that you need to look at are as follows: 
b) The nature of storage devices and systems that your company currently uses 

c) The average storage space that you require for the smooth functioning of your business 

d) The volume of data generated and their sensitivity 

e) The database that your organisation currently falls back on 

f) Understanding the volume, type and nature of resources that your company requires for optimum functioning  
g) Current application features and the app requirements that you will need after cloud migration 

h) The financial aspects of your business — how much monetary resources can you direct towards the migration to the cloud without compromising the everyday business activities? 

i) The current level of data and business security options of your organisation 
These are some of the significant business components that will help you gain valuable insights regarding the totality of your business. Once you are thorough with your business elements, you can design precise migration blueprints that will encompass everything your organisation will require to succeed in the new realm. 
3. Conduct ample research on the cost of moving your business to a cloud environment and that of operating it using cloud computing. 
Though cloud-based businesses are believed to be cost-effective in the long run, the expenses of cloud migration and conducting business from a cloud platform might come as a shock to you if you are left unguarded and unprepared. Before you choose to adopt cloud computing, you must invest resources to find out all dimensions of the costs that you might incur while facilitating this new phase of your company. It is imperative that your return on investment (ROI) is high. Hence make a detailed expenses chart that will enable you to predict the cost of each element or process involved in cloud migration. Ensure that you also allot some extra money for unforeseen expenditures to fill the gap between the planned budget and the actual expenses incurred. From the inception of cloud adoption, keep track of all the money that you spend and regularly cross-check the expenditure with the predetermined expenses chart to ensure that you are on the right path. 
4. Study the different kinds of cloud environments from which you need to make an informed choice. 
Choosing the right cloud environment for your business can be a daunting task, but with enough research and analysis, you will be able to determine which cloud environment will work the best for your company. There are primarily four types of cloud environments, namely, the private cloud, the public cloud, the hybrid cloud and the community cloud. 
The resources offered by the private cloud are individualistic — they are meant for your organisation only. In this system, you and your teams will have complete control of the environment. This mode of cloud infrastructure is usually costly. 
The resources in the public cloud are shared by your organisation and others. This type of cloud is quite popular, and those that avail of its services need not bear hardware costs as the centre of operation is off-site, managed by a service provider. This model offers flexible prices that give ample expenditure options for businesses. 
This type of cloud environment encompasses the combination of the features of private cloud and public cloud. In this model, organisations can rely on elements from both infrastructures to implement their business requirements in any combination that works for them. The hybrid cloud is cost-effective, making it one of the popular choices amongst small businesses. 
This type of cloud infrastructure can be placed between private and public cloud environments. It is managed by a third party, and its users are members of the community. It consists of a number of public clouds that are arranged for a private community whose resources like security and infrastructure are shared by the community members. 
5. Choose a cloud service provider after careful consideration. 
Cloud migration without the presence of a reliable, efficient and agile cloud vendor is not only risky but also hazardous to your organisation. You must devote time, workforce and other resources to compile a list of cloud service providers who are most suited to your organisation. The initial parameters for filtering the cloud vendors involve having a cursory glance at their work profiles and websites. Once you have potential vendors in line, you can thoroughly review their portfolios. Be very critical while vetting the cloud service providers — you must be able to identify specific aspects of each vendor that are beneficial to your company as well as those that might not be as useful to your business. Based on these insights, you can filter more service providers. After multiple levels of filtering and background checks that involve a thorough analysis of their work experience, testimonials from clients, portfolio, services offered and other elements, you can finally identify the cloud service provider who is the most compatible with your organisation. 
Once you go through each of these aspects in detail, you will be equipped with the know-how to adopt cloud computing. By being prepared this way, you will be ready to tackle any challenges and surprises that you might encounter during the process of cloud migration.