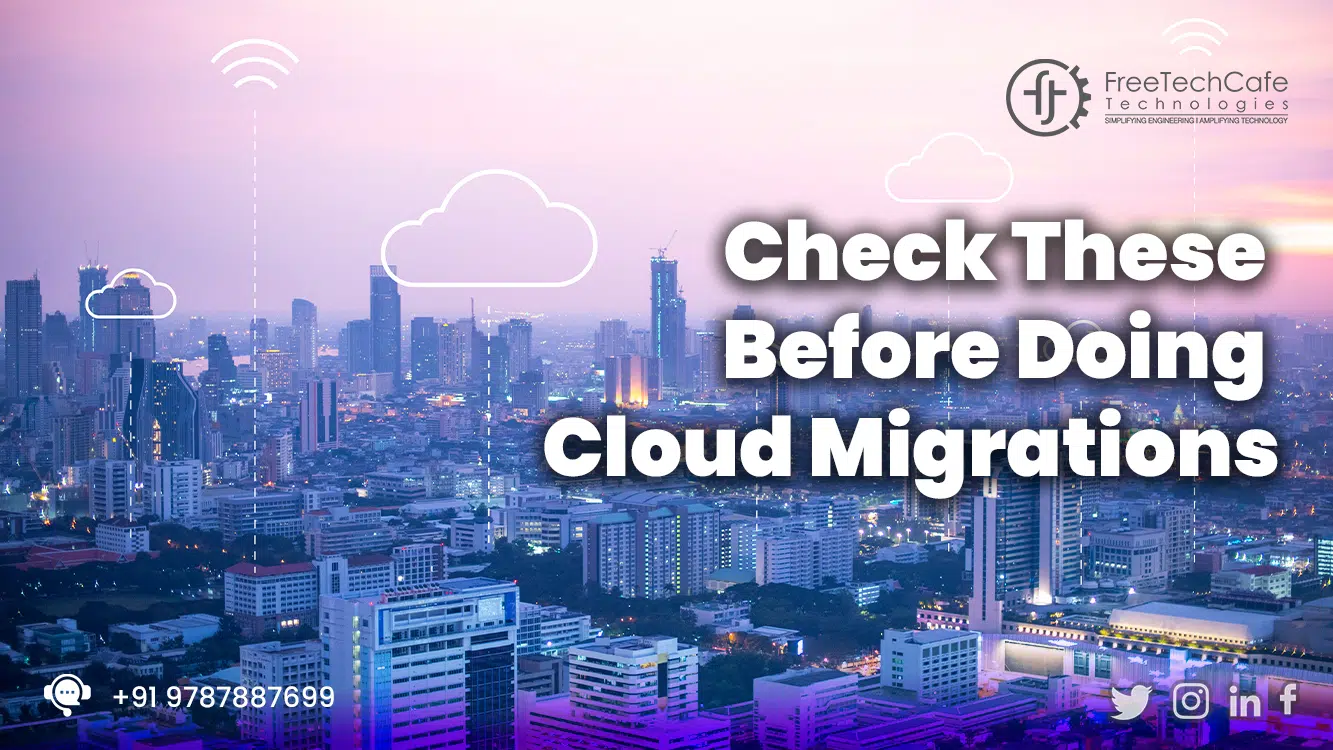 June 1, 2022

FreeTechCafe

0
Cloud computing achieved momentum at a time when business automation services were revolutionising the IT industry. It was the beginning of an era in which digitization of data became mandatory for businesses to remain relevant, innovative, and at the top of their game. Years later, the surprise visit of the Covid-19 pandemic would make the consultation of web application development services unavoidable for businesses. This would be accompanied by the compulsory need for enterprise software development services that would speed up cloud adoption.  
Cloud migration with its scalability, feasibility and security has drastically transformed businesses by offering insightful data analytics and enhancing workforce collaborations. However, as cloud migration is also a re-architecture of the business itself, the migration process ought to be handled delicately. The absence of adequate knowledge of the state of your business including the loopholes of your in-house team and the lack of a thorough plan could jeopardise the whole migration process and crucially affect your business ventures. Even though business goals, priorities, network and security requirements vary for organisations, each new decision is a pathway to progress and the road to umpteen possibilities for your business. Therefore, as an early preparation to help your business carry the weight of the complex process of cloud migration, it is important to track a general cloud migration checklist.  
Organise a team to oversee the migration process.
Led by the migration architect, your team's role is to analyse cloud requirements with your company's digital architecture in mind. Your team should also consist of representatives from each department of your organisation to ensure that all perspectives are taken into account before reaching decisions. The awareness and involvement of the main stakeholders would enrich and speed up the migration process and would also give the employees a cloud experience in advance. Contemplating factors such as cost of ownership, compatibility of your existing applications with the cloud technology, safe business continuity, and data security, your team is supposed to help you plan the most suitable repurposing strategies for data migration. Your migration team will be entrusted with the task of creating a detailed map to carry out and successfully implement each step at every course of the migration mission in a manner that is convenient, beneficial and free of loss to your business. 
Plan the right migration strategy by asking the right questions. 
For the shift of your business data from an on-premises set-up to a cloud to take place evenly, you need to classify your data into the ones that can integrate into the cloud in its current state itself and the ones that need to be modified before the migration process. The next aspect to assess before availing of enterprise software development services is whether your business would benefit from having its applications working in a single cloud alone or by functioning in multiple cloud services simultaneously. The implications of each of these decisions need to be analysed thoroughly before choosing one. Depending on a single cloud service provider means your team only needs to be familiar with that particular cloud's API. However, in case you feel like your business needs another cloud migration, the migration process would be as tedious as the initial migration process. Multi-cloud possibilities let you have separate clouds for each application or have different cloud service providers controlling each wing of the same application. However, the catch here is that multiple cloud service providers will need to work together effectively for your business to function efficiently. Hence it is important to choose correctly between shallow and deep cloud integration and to decide whether it would be smart for your business to accept the business automation services of a single cloud service provider or multi-cloud service providers. 
Re-align your KPIs and performance baselines. 
The KPIs required once cloud migration is involved is different from the KPIs you considered while your business wasn't availing enterprise software development services. Cloud migration KPIs are decided after elaborate research especially in categories such as infrastructure, the performance of the application and user experience. It is mandatory to read thoroughly into the metrics that will help you pinpoint what factors would be affected to which degree after cloud migration. After establishing KPIs, performance baselining should come into the picture. According to the requirements of your business, be sure to collect enough data that would give a fair prediction of your post-migration results. KPIs and performance baselines would also reveal the invisible obstacles you had no idea you were facing.  
Refactoring necessary applications beforehand.  
Your on-premises applications need to be thoroughly assessed before cloud migration. For your applications to work as efficiently and feasibly as possible in the cloud, you may need to refactor them accordingly. If it works effectively in diverse instances, cloud service costs could be saved to a great extent. You could work on making this new version more flexible to change so that the cloud capabilities can be exploited to the core.  
A thorough data migration plan.  
Your cloud migration team should have a perfectly well thought out migration plan such that your business output isn't affected during cloud migration. It is crucial to prioritise the migration components and to know the location of each migrated app. It is also important to note that the migrated application utilizes maximum cloud resources while functioning from that particular location. Migration could be performed all at once or gradually, by introducing customers to the cloud and making observations and changes based on customer feedback. In the latter case, amidst the migration process, you may need to use the in-house platform and the cloud platform simultaneously. While toggling between the on-premises database and the cloud database, confusion shouldn't occur. The data migration plan should also include the decision of switching production from the in-house platform to the cloud platform. Your enterprise software development provider and your migration team should effectively handle all these processes with your business goals in mind. As complicated as the migration process is, a comprehensive evaluation followed by thorough planning can lead to a successful cloud migration process and prevent unwanted surprises.  
Cloud migration is indeed a tedious process that shouldn't be implemented in a rush. But the time, energy, cost and resources invested for cloud adoption is extremely worth it. Technological giants like Apple and successful streaming platforms like Netflix are inspiring examples of success in the cloud. The journey to the cloud may be difficult but once you reach it, you will realize that your business is safer, stabler and successful in the clouds.