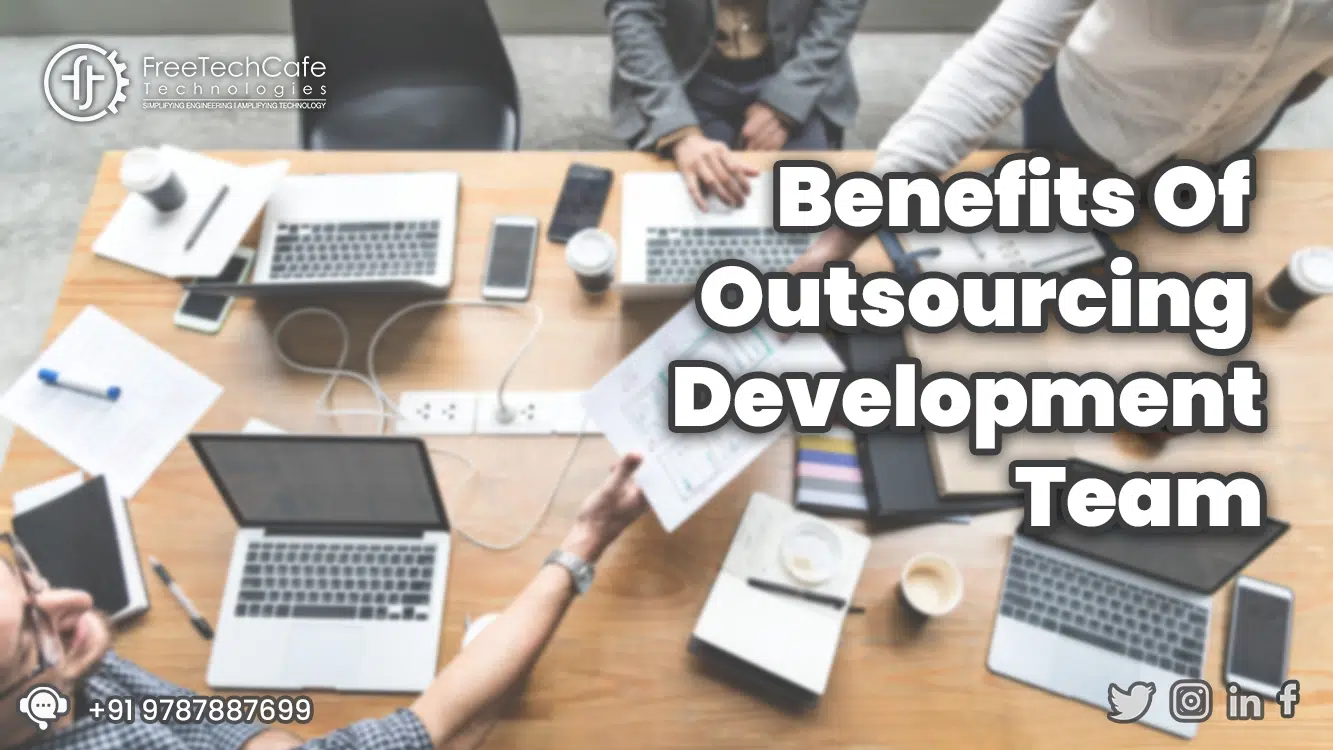 May 25, 2022

FreeTechCafe

0
In recent years, there has been a surge in the dependence of businesses on outsourcing developers. This shift can be attributed to the variety of software outsourcing options made available to businesses in the form of mobile application development services. It is true that the idea of entrusting a corner of your company's responsibilities to a third-party outsourcing developer might initially seem unwelcoming. However, a thoroughly informed decision in choosing the right developer, clearly discussed and accepted terms and conditions, and effective management strategies over the course of the project, would promise profitable results for your company. Here are 4 amazing benefits of outsourcing development.
Breaks the boundaries of your talent pool:
While your in-house team may have a lot to offer, certain client projects demand assignments beyond the expertise of your in-house team. The prospects of choosing the best outsourcing personnel for your project come with numerous options. Without just sticking to nearshore or onshore options, you also have the choice to take your developer hunt overseas and utilise the services of the best in the field at reasonable costs. The American founders of WhatsApp, arguably the most popular Android app in the world, are said to have availed the web application development services of app developers in Russia.
To accomplish your task, your outsourcing developer can provide you with the most suitable experts specialised in that particular field. Access to diverse perspectives and the expertise of widely experienced personnel can carry your project to higher levels of innovation. At this point, your client's expectations would be met by an overall dynamic team well equipped to handle any risks.
Based on the nature of your project, there could be cases in which only some functionalities can be detected in the middle of the process and not at the beginning itself. The development and progress of the project may be unpredictable in these cases. This is where the option of flexible costs over fixed costs comes to the rescue. In this case, companies and their outsourcing developers can negotiate and decide costs in instalments based on the step-by-step completion of tasks. This would ensure time for your company to plan feasible strategies in advance without the sudden surprise of hidden costs. Hence, entrusting the right outsourcing developer with your project can indeed be cheap without compromising the desired quality of your project. The budget saved can be invested in other endeavours of your company.
Accepting the limits of your in-house team and finding the right outsourcing developer that is well-versed and experienced enough in the field suitable for your project, can save heap loads of time for your company and in-house team. The outsourcing developer's fresh enthusiasm and novel perspectives would catalyse the pace of the mobile application development services offered by them. The working time of the developer isn't bound by your company's office hours and they have the liberty to work around the clock for your client. As your outsourcing developer's primary priority is to compulsorily generate quality results strictly in a given time, you can be assured that your work would be completed efficiently without any delay.
Work organised is equal to work simplified. The division of work responsibilities lets your in-house team and your outsourcing developer focus keenly on key areas of their particular tasks in painstaking detail. It would be a necessity for both teams to have utmost clarity about their responsibilities while still making enough room and time for innovation. These targeted efforts in their own areas of expertise promise a sense of accountability from their side. As work-partnerships demand effective team cooperation and collaboration, each member would be wary of project completion as their results are also interdependent on each other. Hence calculated risks would be taken by the teams, only without jeopardising the client's expectations.
Sometimes, losing a little control means gaining more control. If you smartly choose the apt outsourcing developer that aligns with your project needs and if you strictly manage the work progress on a systematic basis, the mobile application development services granted by outsourcing options can ensure wonders for your company. In addition to saving your budget, your time and increasing the productivity of your in-house team, your outsourcing developer can be your ticket to improving your company's profit, competency, and overall efficiency in the market.